The State Department has approved a potential $91.2 million deal with Finland for the extended range version of Lockheed Martin's [LMT] Guided Multiple Launch Rocket Systems (GMLRS).
The Defense Security Cooperation Agency (DSCA) notified Congress on Wednesday of the foreign military sale.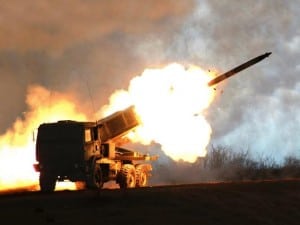 Under the deal, Finland would receive 25 Extended Range GMLRS-Alternative Warhead Pods and 10 Extended Range GMLRS-Unitary Pods. 
"Finland intends to use these defense articles and services to modernize its armed forces.  Finland intends to expand its existing army architecture to counter potential threats," DSCA officials wrote in a statement. 
Lockheed Martin has said last fall the new Extended Range GMLRS is expected to reach ranges above 150 kilometers, doubling the capability of the current rocket (Defense Daily, Oct. 16).