Sikorsky [LMT] and Boeing's [BA] SB-1 Defiant helicopter offering for the Army's Future Long Range Assault Aircraft (FLRAA) program reached 205 knots in its latest flight, with plans to potentially demonstrate max speed above 250 knots within months.
The latest update arrives as the team has begun the first design review of the aircraft with the Army this month under the FLRAA Competitive Demonstration & Risk Reduction (CD&RR) phase.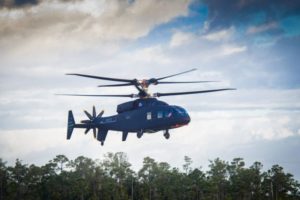 "We're really proud of this milestone and what our team has achieved. We're in very, very close collaboration with our Army partners. We continue to provide useable performance data, proving out the benefits of the X2 design," Jay Macklin, Sikorsky's director of future vertical lift business development, told reporters on Tuesday. "We're seeing exactly the performance our analytical tools predicted. This gives us even greater confidence as we continue to expand the speed envelope and maneuvers of Defiant."
The Army announced in March it had selected SB-1 Defiant and Bell's [TXT] V-280 Valor tiltrotor aircraft, the two participants in the Joint Multi-Role Technology Demonstrator program to inform final requirements for the UH-60 Black Hawk-replacement program, to move forward in FLRAA with a downselect decision planned for 2022 (Defense Daily, March 16). 
Bill Fell, the senior test pilot for Defiant, told reporters the aircraft was able to reach 205 knots using only 50 percent of its installed propeller power. 
"Expect a lot more in the future because we have a lot more prop power to apply to this machine," Fell said. "230 knots is what we signed up for [under JMR-TD]. That's what we designed to achieve, at a minimum, to begin with. So we'll go well in excess of that, in excess of 250 knots."
Bell has previously announced the V-280 has exceeded 280 knots during a demonstration, and the company told reporters earlier this year it completed a successful autonomous test flight in December 2019 (Defense Daily, Jan. 9). 
Defiant has now totaled 18 flight hours, 20 hours on the ground and 113 hours of rigorous component testing on its Propulsion Systems Test Bed at Sikorsky's West Palm Beach, Florida, facility, Macklin told reporters, with the goal of gathering operational analysis to inform CD&RR trade studies. 
Macklin confirmed the first design review under CD&RR has begun, with Sikorsky and Boeing meeting with Army officials this morning to discuss refining the aircraft's design, understanding costs and updates on speed and range data. 
The Army previously told Defense Daily two design reviews will be conducted under the CD&RR phase with SB-1 Defiant and V-280 Valor this June and next February (Defense Daily, March 20).