The Pentagon's top acquisition official said Thursday there's increasing momentum for a national policy to assist with reshoring suppliers for critical capabilities such as microelectronics, with the department planning its own initiatives to bolster domestic supply chains.
Ellen Lord, the under secretary of defense for acquisition and sustainment, said during a Reagan Institute discussion her office has worked on a five-month study to assess the microelectronics industrial base "to understand [challenges] from foundries to packaging, logic to memory."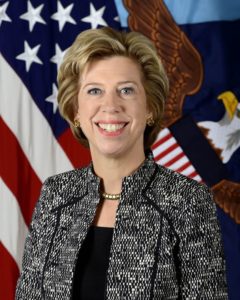 "We have just finished a piece of work internally that we are now beginning to socialize in the interagency throughout the government saying that we have a challenge in that the majority of the intellectual property associated with microelectronics is generated in the U.S. but the majority of the fabrication and packaging is done offshore. And that introduces risks to our supply chains and takes away from our economic security," Lord said. "We are thinking about a whole number of public-private partnerships to bring more of that back here."
Lord's comments follow remarks last week that the pandemic has highlighted specific vulnerabilities in the microelectronics fabrication supply chain, as well as in rare earth mineral processing (Defense Daily, July 8).
The push for a national policy to reshore critical capabilities is part of a broader emphasis on moving toward "zero trust" microelectronics where the department has full confidence in the security of components, while moving away from manufacturing pieces in China.
"We are on the cusp of needing some kind of national policy to make sure we are supportive, on the government side, of bringing these critical capabilities back. That ranges all the way from capital to make the investments to local, state and federal tax incentives to regulatory easing of burdens," Lord said. "We still are a ways away from ['zero trust'], although we have some pretty exciting work going on."
Lord added the department has considered utilizing the Development Finance Corporation's new authorities, allowing it to leverage Defense Production Act Title III funds as a means for "collateral money to grant loans to reshore critical capability to the U.S."
"We are working through all the legalities of that. But I'm partnering very tightly with Adam Boehler, [the CEO] of DFC, and we are looking at what are those critical capabilities that we should reshore. That's both in the medical resource side of things as well as the industrial base writ large for where defense really has a critical need that then could help industry in general, and microelectronics is one of those," Lord said.
The Pentagon's technology office has previously announced it's shifted its top modernization priority from hypersonics to microelectronics (Defense Daily, May 19).