General Dynamics Land Systems [GD] is set to unveil a new robotic vehicle the company developed for the Army's future Robotic Combat Vehicle-Medium (RCV-M) production competition, with plans to demonstrate the platform for the service and the Marine Corps in 2021.
The new Tracked Robot X-Ton, or TRX, robotic vehicle will be showcased at GDLS' virtual trade booth during next week's online Association of the United States Army Conference, along with the Mobile Protected Firepower platform. The company is set to complete deliveries of 12 prototypes of the Mobile Protected Firepower platform to the Army by the end of the year.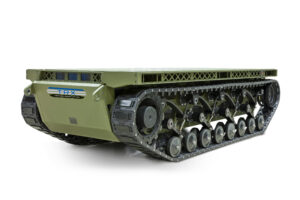 "What no one has seen before that's totally new is the TREX. It's an IRAD project, it hasn't been shown in public before. It's a medium-weight robotic vehicle in the same class of vehicles as the Army's RCV-Medium experiments that are ongoing right now," GDLS told Defense Daily. "It is a multi-mission, multi-equipment package vehicle with some autonomous capabilities so that it can perform manned-unmanned teaming missions in the Stryker Brigade Combat Teams and the Armored Brigade Combat Teams."
GDLS said the version to be shown next week will have an indirect fires mission package that includes Aerovironment's loitering munitions capabilities.
"It has a very high payload ratio to the weight of the chassis because of some advanced design techniques and material techniques that we have employed to keep the chassis weight low and enable it to carry more stuff," GDLS said.
The Army previously selected the Ripsaw M5, built by a team of Textron Systems [TXT], Howe & Howe and FLIR [FLR], as a prototype to conduct RCV-M experiments intended to inform final requirements (Defense Daily, Jan. 9).
Army officials told reporters in August the first experiment with the RCV-M prototypes will take place in early FY '22 (Defense Daily, Aug. 6).
"The current exercise that is going on is an experiment to inform the requirements that the Army will lock on as it moves toward the RCV-M program of record. So what we're doing is preparing ourselves to compete for the RCV-M program of record," GDLS told Defense Daily.
GDLS said it will demonstrate TRX three times in 2021, twice with the Army and once with the Marine Corps.
"We will continue to improve it based on what they see and what they would like it to do," GDLS said.
For MPF, the Army's new light tank for its infantry brigades, GDLS will be virtually showcasing their prototype platform, which is currently set to go through a soldier vehicle assessment starting in March 2021.
"People are working 24/7 on this in order to get these vehicles prepared and delivered in order to maintain the government's test and evaluation program in preparation for downselect in mid-2022. And we are on target to deliver those vehicles in support of that broader Army program," GDLS told Defense Daily.
In December 2018, the Army downselected GD and BAE Systems to each deliver 12 prototype MPFs, with both beating out a bid from SAIC (Defense Daily, Dec. 17 2018).
GD has delivered three prototypes so far, according to the company, with five vehicles in the final integration phase before delivery and the remainder in production right now. Delivery of all 12 vehicles will be completed before the end of year, according to a company spokesperson.
The company's virtual booth will also feature the ground robot selected for the Army's ground Small Multipurpose Equipment Transport (SMET) program as well as the Stryker Interim Maneuver Short-Range Air Defense (IM-SHORAD), for which GD recently received a $1.2 billion production contract.
The Army awarded GD a $249 million deal for SMET in July, with deliveries of the robotic systems to begin next year (Defense Daily, July 15).