Both General Dynamics [GD] and BAE Systems are in the process of delivering their light tank prototypes for the Army's Mobile Protected Firepower program ahead of soldier assessment starting in January, the companies told Defense Daily.
General Dynamics has delivered 10 of the 12 total vehicles to date, with the remaining two scheduled to be delivered by the end of December, while BAE System said the Army will receive its MPF platform within the week.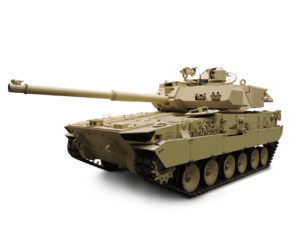 In December 2018, the Army selected the two companies to each deliver the 12 prototypes with a final downselect decision scheduled for late fiscal year 2022.
Last week, the Army announced it will hold a six-month Soldier Vehicle Assessment with the 82nd Airborne Division at Fort Bragg, North Carolina, to help inform the decision on selecting one of the two light tank offerings (Defense Daily, Dec. 11). 
"General Dynamics has listened to the Army, fully understanding its requirements, and worked closely with the program management office throughout this fast-paced effort to deliver systems on time to meet programmed test schedules. We are pleased to be able to deliver this capability to the U.S. Army, despite the global pandemic. Our MPF offering is a highly lethal, mobile and survivable direct-fire combat vehicle that can dominate ground threats on the multi-domain battlefield," a General Dynamics Land Systems spokesperson told Defense Daily. 
GD's offering combines a version of its latest M1 Abrams tank turret with a chassis originally built for the United Kingdom's AJAX infantry armored vehicle program, while BAE Systems' vehicle model for the MPF tank is based on the M8 Armored Gun System with a 105mm cannon.
"In coordination with the Army we have aligned our delivery schedule to support SVA and get this vehicle into soldiers' hands for evaluation. We are excited about demonstrating a vehicle that is purpose designed for the [Infantry Brigade Combat Team] and its unique needs. We remain committed to ensuring the IBCT gets this advanced capability that meets their deployability, survivability, lethality and logistical needs," Amanda Niswonger, a BAE Systems spokeswoman, told Defense Daily.