Defense Secretary Mark Esper said Wednesday he opposes invoking a law that would allow the president to use the U.S. military for law enforcement in the response to nationwide demonstrations protesting police brutality against black Americans.
Esper also noted he has directed the Army to investigate why a National Guard medevac helicopter was flying low over protesters during demonstrations in Washington, D.C. on Monday evening.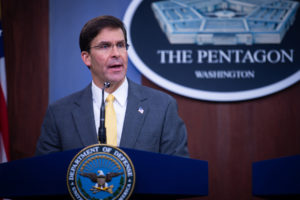 "The option to use active duty forces in a law enforcement role should only be used as a matter of last resort, and only in the most urgent and dire of situations. We are not in one of those situations now. I do not support invoking the Insurrection Act," said Esper, breaking with the president's remarks earlier in the week that the U.S. would consider using the law to send active-duty U.S. troops in response to the protests.
Multiple lawmakers on Tuesday said they planned to call on the Pentagon and law enforcement officials to explain what the U.S. military has or may be tasked to do as protestors take to the streets after the May 25 death of George Floyd, an unarmed African American man, while in police custody in Minneapolis (Defense Daily, June 2). 
The defense secretary was also asked if he regretted participating in the president's photo opportunity Monday outside of St. John's Church in D.C., which was preceded by the use of tear gas to clear protesters around the area.
"I did know that we were going to the church. I was not aware that a photo-op was happening. Of course, the president drags a large press pool along with him. Look, I do everything I can to try to stay apolitical and try to stay out of situations that may appear political. Sometimes I'm successful at doing that and sometimes I'm not successful. My aim is to keep the department out of politics to stay apolitical, and that's what I continue trying to do as well my leaders here in the department," Esper said. 
Regarding the investigation into the National Guard helicopter, Esper said he believed the video of the incident looked unsafe while adding that he will await the results of the investigation from the Army and the D.C. National Guard to determine what occurred. 
"You made a statement that it was to intimidate protesters. I got a report back that they were asked by law enforcement to look at a checkpoint, a National Guard checkpoint to see if there were protesters around. So there's conflicting reports. I don't want to add to that. I think we need to let the Army conduct its inquiry, and then get back and see what the facts actually are," Esper said. "I think when you're landing that low in a city, it looks unsafe to me, right? But I need to learn more about what's going on."