A bipartisan House Armed Services Committee (HASC) task force has put forth six legislative proposals aimed at bolstering the Pentagon's supply chain security and reducing the department's reliance on items sourced from adversarial countries, specifically China.
The Defense Critical Supply Chain Task Force, led by Reps. Elissa Slotkin (D-Mich.) and Mike Gallagher (R-Wis.), released its final report on Thursday which details the recommendations that will be submitted as amendments to HASC's fiscal year 2022 National Defense Authorization Act.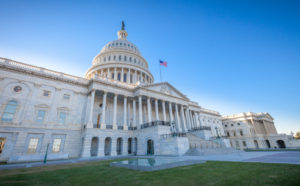 "The COVID-19 pandemic likewise taught the United States and our allies that adversaries, particularly China, are capable of weaponizing supply chain vulnerabilities to threaten our national security should they choose to. The COVID-19 crisis tested the United States, but our response gave us valuable insights and underscored the imperative to act on them," the task force writes in its report. "It is now incumbent on the US Government, in concert with industry and allied nations, to mitigate critical defense supply chain risks, increase surge capacity, and enhance resilience by increasing the diversity of sources."
The task force notes that during its three months of work it heard consistent themes from DoD officials and outside experts that the department lacks "sufficient visibility on the supply chain to understand its vulnerabilities" and that better mapping of where supplies are sourced and manufactured is required to build up improved resiliency and risk mitigation.
"I think there's a certain inertia, a certain status quo bias and a shared sense that this is such an impossible task, informed, perhaps, by past sector-by-sector, tier-by-tier failures that we need to overcome within DoD," Gallagher said during a Center for New American Security discussion on the task force's findings. "It's almost like, okay it's difficult now, do you think it's going to get any easier if we're scrapping over Taiwan. No. Let's figure it out in peacetime so we don't find ourselves on the losing side during wartime."
Two recommendations from the task force call for requiring a department-wide risk assessment strategy for continuous monitoring and assessment of the defense supply chain and for utilizing commercially-available tools to map the supply chain for vulnerability points within a year of enactment.
"DoD must treat supply chain security as a defense strategic priority," the task force writes. "[The department] must have visibility on the defense supply chain to understand its vulnerabilities and develop risk mitigation strategies. Commercially available tools are used by some in industry and certain military service-level acquisition programs, but the department should not rely solely on industry to provide the information."
The task force is also putting forth a proposal for the Pentagon to "deploy the full range of American innovation" to reduce reliance on foreign sources for rare Earth materials.
"This includes diversifying the source of rare earths, minimizing dependence on sources and processes in the People's Republic of China, seeking global solutions by seeking agreements and collaboration with allies and partners, and increasing relevant capability in the United States," the task force writes.
Gallagher also spoke to another recommendation that calls for bolstering the role of allies and partners to help develop improved supply chain resilience by cooperating on resource efforts that allow for a competitive option to Chinese firms "not just on quality and [operational security] but on price," specifically citing the need to offer an alternative to telecommunications technology from companies like Huawei and ZTE.
"If we are going to contemplate some form of selective economic and financial decoupling from China, which I think is now inevitable, the only way that works is if we simultaneously draw closer with our partners and our allies and collaborate on critical technologies," Gallagher said.
HASC is set to consider its full committee markup of the FY '22 NDAA, along with lawmakers' proposed amendments, on Sept. 1.