BAE Systems has delivered the first Armored Multi-Purpose Vehicle (AMPV) to the Army, following a series of delays to the program that will replace the Army's M113 armored personnel carriers.
Delivery of the first AMPV, which was a mission command variant, had been pushed from this spring due to production line issues and then faced a further one-month delay as a result of the ongoing pandemic.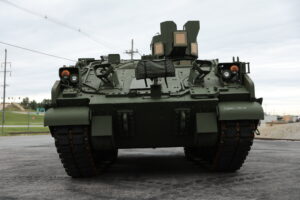 "Finalizing the first AMPV for delivery marks a major milestone for the program and the U.S. Army," Bill Sheehy, BAE Systems' AMPV program director, said in a statement. "The AMPV is designed to meet the Army's missions for the Armored Brigade Combat Teams (ABCT), and lay the foundation for the future of the battlefield."
BAE Systems is currently under contract for low-rate initial production covering 450 vehicles, with AMPV to come in five variants: a general purpose vehicle, the mission command vehicle, a mortar carrier, a medical evacuation vehicle and a medical treatment vehicle.
"The AMPV family of vehicles provides significant power, mobility, interoperability, and survivability improvements for the ABCT," Jeremy Tondreault, vice president of BAE Systems' combat mission systems, said in a statement. "The AMPV has demonstrated outstanding survivability and force protection as well as flexibility and growth for the future."
Last month, BAE Systems told Defense Daily the delay of deliveries by several months from spring to July was due to the company's installing of modernized manufacturing equipment, including robotic welding, digital X-ray, and advanced machining, to incorporate efficiencies in the AMPV production process (Defense Daily, August 4). 
The additional one-month push was due to ongoing work needed to mitigate "the impacts from COVID-19 with our employees, supply network, and customer base," according to the company.
The Army has previously detailed plans to stretch its AMPV buy to shift funds toward modernization efforts, with the service budgeting for $193 million for procurement in FY '21, down from $445 million in FY '20 (Defense Daily, Feb. 11).