The Army's first Mobile Protected Firepower prototypes have started arriving to the 82nd Airborne Division at Fort Bragg, North Carolina, where soldiers will begin an assessment in January to help inform the decision on selecting one of the two light tank offerings.
The Soldier Vehicle Assessment (SVA) will extend through June 2021 and include running both BAE Systems
and General Dynamics Land Systems' [GD] MPF offerings through a range of operational scenarios.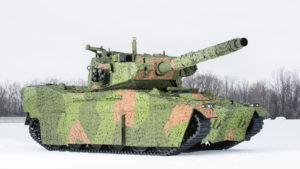 "The MPF brings a new level of lethality to our infantry forces. The SVA gives us the first opportunity to put these vehicles in the hands of our Soldiers with the 82nd Airborne and begin to develop the methods by which our forces can best employ MPF," Brig Gen. Ross Coffman, director of the Next-Generation Combat Vehicle Cross Functional Team, said in a statement. "Once they are able to begin interacting with these prototypes, I know that our Soldiers are going to come up with the best ways to utilize MPF in our light formations."
The Army selected BAE Systems and GD in December 2019 to each deliver 12 competitive prototypes for MPF, with a final downselect decision scheduled for late fiscal year 2022.
"Currently the Army's Infantry Brigade Combat Teams do not have a combat vehicle assigned that is capable of providing mobile, protected, direct, offensive fire capability," the Army wrote in a statement. "To fill that capability gap the Army is using an innovative and competitive Acquisition approach to provide IBCTs with their own organic lethality platforms to ensure overmatch against peer and near peer threat."
BAE Systems' vehicle model for the MPF tank is based on the M8 Armored Gun System with a 105mm cannon, while GD's offering combines a version of its latest M1 Abrams tank turret with a chassis originally built for the United Kingdom's AJAX infantry armored vehicle program.