The Army has awarded Airbus a new deal, worth potentially more than $1.5 billion, to continue logistics support for the service's UH-72A and UH-72B Lakota helicopter fleet, the company said Monday.
Under the follow-on deal, which includes a six-month base period and four and a half option years, Airbus would provide spare parts, material, and engineering support for the entire fleet of 482 Lakota utility and training helicopters.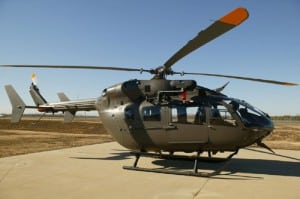 "We are honored to be extending our relationship with the U.S. Army for another five years. Airbus continues to prove its commitment to providing high-quality platforms and outstanding support to the men and women who fly these exceptional aircraft," Scott Tumpak, vice president of Airbus U.S.' military helicopters division, said in a statement. "We are proud of our more than 15-year record of providing excellent service and hope to continue this partnership for many years to come."
Airbus was first awarded a contract to deliver UH-72A Lakotas in 2006, which have been used for training at Fort Rucker, Ala., air medical transport, search and rescue, and Army National Guard support of Customs and Border Protection operations.
Last September, the company delivered the Army's first UH-72B, which is a version of the aircraft upgraded with "technologies that increase both safety and flight performance, including the five-bladed main rotor, the Fenestron shrouded tail rotor, Safran Arriel 2E engines, and the Airbus-designed Helionix avionics suite." 
"Airbus has provided exceptional product and support services in the UH-72A for nearly two decades," Col. Calvin Lane, the Army's utility helicopter project manager, said in a statement. "This contract underscores the Army's trust in the aircraft's capabilities, and we look forward to the continued support this contract provides to the UH-72 fleet."
The new logistics deal will cover support at 67 sites across the U.S. and abroad, to include National Guard bases in 43 states, according to Airbus. 
Airbus said this contract is "the largest helicopter performance-based support contract managed by Airbus worldwide," while adding the Lakota fleet "remains the Army's lowest cost twin-engine helicopter to buy, own and operate."