U.S. military forces intercepted a rocket using the Counter-Rocket, Artillery, Mortar (C-RAM) system during an early Monday morning attack aimed at Hamid Karzai International Airport in Kabul, occurring as withdrawal operations in Afghanistan were set to conclude later in the day
A total of five rockets were aimed at the airfield, Pentagon officials told reporters, with the Raytheon Technologies [RTX]-built C-RAM Intercept Land-based Phalanx Weapon System taking out one rocket, while three others landed outside the airfield and the remaining rocket landed within the airfield perimeter but with "no effect to the mission or any danger to our personnel."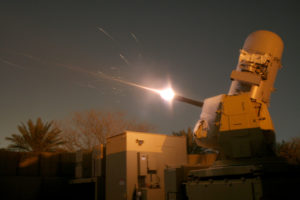 "The force protection measure, C-RAM, did work. It did engage and it had effect on the one [rocket] and the one did land in an area that was not effective," Army Maj. Gen. Hank Taylor, the Joint Staff's deputy director for regional operations, told reporters.
The rocket attack arrived after U.S. officials warned of a high probability that "specific, credible threats" could be targeted at the airport.
Marine Corps Gen. Frank McKenzie, head of U.S. Central Command, confirmed U.S. forces "de-militarized" its C-RAMs before the final forces departed Kabul to ensure the equipment could never be used again.
"We elected to keep those systems in operation up until the very last minute. It's a complex and time-intensive procedure to break down those systems," McKenzie told reporters during a Monday afternoon briefing.
McKenzie confirmed U.S. troops also broke down about 70 Mine-Resistant Ambush Protected vehicles, 27 Humvees and 73 aircraft before withdrawal operations concluded.
Raytheon's C-RAM land-based system includes a 20mm M61A1 Gatling gun and infrared sensors used to detect close-in threats and provide early warning of attacks.
In late 2018, the Army awarded Raytheon a five-year, $205 million deal to continue providing support for its Phalanx weapon system (Defense Daily, Jan. 2 2019). 
The Army first went after the anti-projectile Gatling gun in 2004 when the service was searching for a mature system required for quick fielding in Iraq.