Several Democrats on the Senate Armed Services Committee reiterated concerns Tuesday over President-elect Joe Biden's decision to nominate a recently retired general for defense secretary, signaling they're unlikely to vote in favor of granting a waiver for Ret. Gen. Lloyd Austin.
The lawmakers, including Sens. Elizabeth Warren (D-Mass.) and Richard Blumenthal (D-Conn.), said they believed Austin, the former U.S. CENTCOM commander, to be qualified for the role but cautioned that his nomination could work to further erode the norm of civilian control of the military.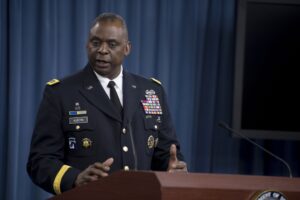 "I believe in this principle deeply and it's why I voted against rewriting federal law for Jim Mattis and it's why I'll do the same for Lloyd Austin. If Congress grants Mr. Austin a waiver, I'll consider his nomination independently on the merits. And regardless of who the next secretary of defense is, it is clear that a lot of work must be done to restore civilian voices to their proper balance in the decision making process at the Defense Department," Warren said.
The committee held a hearing Tuesday on "Civilian Control of the Armed Forces" ahead of Austin's confirmation hearing on Jan. 19.
The House Armed Services Committee is also planning to hear from the retired general on Jan. 21 before the Senate votes on his confirmation.
Both the House and Senate would have to vote to grant a waiver for Austin to serve as defense secretary, same as Mattis, because he has not been out of the military for the required seven years. 
Sen. Jim Inhofe (R-Okla.), SASC's top Republican, said a vote on a waiver will take place after the committee holds the confirmation hearing with Austin.
"I have never been a real believer in the seven-year [rule] to start with. So I'm here learning, I suppose, from our two experts like others would be at this time," Inhofe said. "I want to make it clear that the concerns I highlight regarding the waiver are not a reflection of the personal attributes of Gen. Austin. [He] has a career of distinguished service to our nation and I thank him for his willingness to serve again."
Lindsay Cohn, an associate professor at the U.S. Naval War College, told lawmakers she believes granting a waiver for the second time in four years "will seriously weaken the norm of this being an exception rather than the rule."
"The size and power of the Department of Defense has arguably grown. It remains important, therefore, that this enormous commitment of public resources and American lives be subject and accountable to political authority and not solely to its own internal judgment," Cohn said. 
In newly filed financial forms with the Office of Government Ethics, Austin pledged to recuse himself from decision related to Raytheon [RTN], where he has served as a director on their board, and disclosed he stands to receive up to $1.7 million in payments from the company as he divests his shares in preparation for his new position (Defense Daily, Jan. 11).