The Senate on Wednesday evening voted near-unanimously in favor of a resolution to ratify Sweden and Finland's membership to NATO.
With the 95 to 1 vote, the U.S. is now the 23rd NATO member to move Sweden and Finland a step closer to becoming the 31st and 32nd member nations of the alliance. The two countries need the approval of all 30 NATO members for final ratification.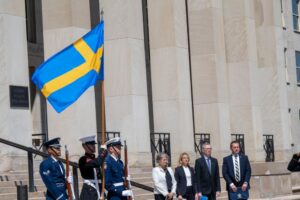 "Welcoming Sweden and Finland into the NATO alliance will signal the United States' ongoing commitment to peace, stability and democracy in Europe and around the world. Enlarging NATO is exactly the opposite of what [Russian President Vladimir] Putin envisioned when he ordered his tanks to invade Ukraine," Sen. Bob Menendez (D-N.J.), chair of the Senate Foreign Relations Committee, said on the Senate floor Wednesday. "In many ways, Finland and Sweden are ideal candidates for NATO membership. Both have large, technologically-advanced and growing militaries that are well-positioned to integrate into NATO. Both have partnered with NATO, contributing to operations in the Balkans, Afghanistan and Iraq. And since Russia's invasion of Ukraine, they have strengthened their relations with NATO even further."
Army Gen. Christopher Cavoli, the new head of U.S. European Command, said during his confirmation hearing in late May that the accession of Finland and Sweden into NATO would have immediate benefits in bolstering deterrence against Russia, citing the importance of their geostrategic locations (Defense Daily, May 26).
Sen. Josh Hawley (R-Mo.) was the sole vote against the resolution, while Sen. Rand Paul (R-Ky.) voted 'present.'
"Expanding NATO will require more United States forces in Europe, more manpower, more firepower, more resources, more spending. And not just now, but over the long haul. But our greatest foreign adversary is not in Europe. Our greatest foreign adversary is in Asia. And when it comes to countering that adversary, we are behind the game. I'm talking of course about China," Hawley said on the Senate floor Wednesday.
Hawley previously voted in October 2019 in favor of expanding NATO and accepting Montenegro and North Macedonia as new member nations.
"It would be strange indeed for any senator who voted to allow Montenegro or North Macedonia into NATO to turn around and deny membership to Finland and Sweden. I would love to hear the defense of such a curious vote," Sen. Tom Cotton (R-Ark.) said in floor remarks on Wednesday, alluding to Hawley's previous vote.
Senate Minority Leader Mitch McConnell (R-Ky.) also pressed back on opposition to the vote, calling it a "slam dunk for national security that deserves unanimous bipartisan support," and cited capabilities Finland and Sweden can bring to bolster NATO's deterrence efforts.
"They will bring meaningful, interoperable military capabilities into the alliance on day one and improve burden sharing across the alliance. There's also no question that their entry is specifically in our interest. These are long-standing defense partners of the United States. The Finns have been flying F-18s and buying sophisticated American munitions since the 1990s. The Swedish defense industry cooperates closely with ours and incorporates American components into modern systems like their fighter aircraft," McConnell said.
Before a final vote on the resolution, the Senate approved by a voice vote an amendment from Sen. Dan Sullivan (R-Alaska) to reiterate the NATO burden sharing agreement for member nations to commit to spending two percent of GDP on defense.
Menendez noted Finland already meets the mark with its defense budget and Sweden has committed to reaching the spending target in the near-future as well.