Raytheon [RTN] has unveiled a new virtual reality trainer the company has designed to meet the Army's requirement to simulate operational scenarios with real and virtual weapons as part of the Synthetic Training Environment program.
The company is showcasing the Synthetic Training Environment Soldier Virtual Trainer (STE SVT) at this week's I/ITSEC conference in Orlando, Florida.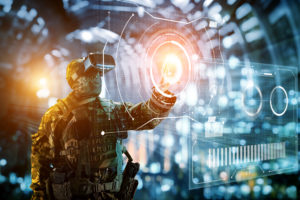 "Raytheon tech helps specialists around the world prepare for the world's most important missions. We are blending our understanding of training with emerging technologies, augmented reality, virtual reality, artificial intelligence, cybersecurity and big data, to connect and secure military training like never before."
Synthetic Training Environment is the Army's program to replace legacy training equipment with new augmented and virtual reality capabilities, backed by a new software-enabled virtual environment, to build the service's future live and virtual networked training capability.
The STE cross-functional team is also looking for capabilities that will allow squads of soldiers to run through multiple scenarios using real and virtual weapons to simulate dismounted operations.
Raytheon said its STE SVT would look to move the Army from "current room-sized simulators" to "portable laptop-powered AR/VR headsets" to conduct the virtual training.
"The new virtual simulator is designed to train dismounted infantry and uses the latest technological advances to deliver highly effective training at a moment's notice from any location," Raytheon officials said in a statement. "It delivers unmatched realism and accessibility while dramatically reducing the cost and logistical challenge of high-consequence training missions."
In June, the Army awarded software firm VT MAK, a subsidiary of VT Systems, and Vricon, a Saab and DigitalGlobe joint venture, deals to each build components the Synthetic Training Environment's software backbone (Defense Daily, June 17).
The Army has also awarded Cole Engineering Services, Inc. a potential $81 million prototype deal to provide the air and ground simulators for the Synthetic Training Environment (Defense Daily, July 1).