The Army on Thursday completed a second successful Limited User Test demonstration of its future missile defense command platform, developed by Northrop Grumman [NOC], taking down a tactical ballistic missile and cruise missile surrogate targets.
Officials told reporters the pair of successful tests are a critical step toward a production decision this November for the Integrated Battle Command System (IBCS) and confirm that the program is expected to reach a full-rate production decision and initial operational capability in the second half of fiscal year 2022.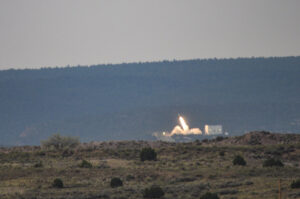 "What we see in the future fight is that [our current] systems and the follow-on systems need to be linked together so that we can bring a suite of sensors into play, that provides us redundancy, and to bring a suite of shooters into play, so that provides us redundancy. We want to optimize the great capability we have now and will have in the future," said Gen. Joseph Martin, the Army vice chief, who attended the test along with Army Under Secretary Jim McPherson. "IBCS is at the center of delivering that like nothing else we have now or anybody else has."
Thursday's flight test at White Sands Missile Range in New Mexico follows an initial LUT demonstration last week that involved using IBCS in a simulated contested environment with jamming and successfully taking down two cruise missile surrogates (Defense Daily, Aug. 13).
"These two back-to-back successful test events are a testament to the commitment and partnership between the great men and women of the Army's operational and acquisition communities and Northrop Grumman's program team," Kenn Todorov, Northrop Grumman's vice president of combat systems and mission readiness, said in a statement.
The latest demonstration involved IBCS engagement operation centers, two Patriot radars, two Sentinel radars, and four total launchers all connected through the IBCS Integrated Fire Control Network.
"IBCS integrated the data to form a single uninterrupted composite track of each threat, impossible with any single sensor, which then informed engagement solutions with the best interceptors to engage both incoming threats," Northrop Grumman wrote in a statement. "The soldiers then executed the IBCS-enabled engagement, which included the launch of a PAC-2 to intercept the cruise missile and a PAC-3 to intercept the advanced TBM."
Maj. Gen. Robert Rasch, the Army's Program Executive Officer for Missiles and Space, told reporters that while this test did not include simulated jamming like last week, he believed it was equally as complex due to the positioning of the Sentinel and Patriot radars.