The U.S. Navy is planning to delay a detail design and construction (DD&C) contract for the Future Frigate until 2020 in order to explore incorporating new capabilities and enhanced survivability features, two Navy officials said Wednesday.
Rear Adm. Ronald Boxall, the director of Surface Warfare, told the House Armed Services Subcommittee on Seapower and Projection Forces that the Navy has established a Frigate Requirement Evaluation Team to update an earlier frigate analysis from 2014, the Small Surface Combatant Task Force. This team will look at the feasibility of incorporating additional capabilities and enhanced survivability into the current frigate designs while also exploring alternative hull forms.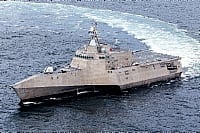 This analysis will then inform the top frigate requirements based on cost and capability trades involved.
"The Navy's revised acquisition strategy is under development and will ensure designs are mature prior to entering into a detail design and construction (DD&C) contract," Boxall and Rear Admiral John Neagley, program executive officer for Littoral Combat Ships, said in their prepared joint statement.
This process will also engage with industry to help make "an aggressive conceptual design effort, leading to a Request for Proposals to award the DD&C contract in FY 2020," the officials said.
The Navy plans to buy 12 frigates, possible based on the precursor Littoral Combat Ship (LCS), after completing construction on 28 LCS's.
Ranking Member Joe Courtney (D-Conn.) highlighted that the 2014 task force said that domestic and foreign designs, including those based on the Freedom and Independence LCS variants, do not meet current LCS survivability requirements and would need major structural improvements to meet them at a greater cost than starting with a new design.
Boxall responded what has changed since then is that the task force was created in a reactive environment, "responding to criticisms and to get to a more capable, survivable ship and LCS as quickly as possible. And there was also fiscal guidance that was given to them at the time."
Now when the Navy team is looking at frigate designs they are not being given cost guidance and they see that every possible provider would need to make changes "so the question really becomes how big are the changes and are they going to be cost effective."
Boxall also noted a Government Accountability Office report released last month that said the service was moving too quickly to design without thinking through it and "we've got kind of a running start based on the work that we've done but we do believe that there is an opportunity to get more survivability into the ship."
The report said an FY 2019 award would make more sense rather than the earlier-planned FY 2018 led-ship contract award because the program will not have a formal, independent cost estimate until FY 2018 and will not begin key detail design activities until late FY 2018, among other reasons (Defense Daily, April 18).