The Naval Air Systems Command awarded Lockheed Martin's Sikorsky [LMT] a $550 million modification to produce six more CH-53K Lot IV low rate initial production (LRIP) King Stallion helicopters.
This contract modification covers production and delivery of the aircraft as well as "programmatic and logistics support, rate tooling and physical configuration audits."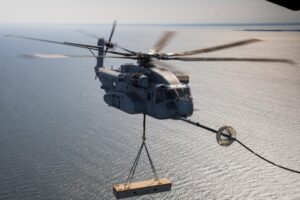 The work is expected to be finished by July 2024.
Sikorsky has already previously won contracts to produce 14 helicopters in the combined LRIP Lots 1, 2, and 3. The first aircraft is planned for delivery in 2021.
When the CH-53K enters service, it will be the largest single-rotor helicopter in the U.S. military inventory and is able to carry 27,000 pounds of cargo up to 100 miles. This is expected to triple the Marine Corps' ship-to-shore lift capacity over the current CH-53E.
"This contract award is another giant step forward as we continue to execute within the reprogrammed CH-53K program timeline. As the long-range logistic support backbone for the U.S. Marine Corps, it is essential that we get this aircraft to the fleet as quickly and as affordably as possible," Col. Jack Perrin, program manager for the Naval Air Systems Command Heavy Lift program office, said in a statement.
The King Stallion previously completed a two-week period of sea trials in the Atlantic in June on the USS Wasp (LSD-1), the first time it worked in a modern naval environment (Defense Daily, June 26)
The CH-53K is operating under a reprogrammed timeline and aims for initial operational test and evaluation (IOT&E) in 2021 before an expected fleet deployment in 2023-2024.
The Marine Corps is currently in the process of accepting the first operational test aircraft configured for Initial Operational Capability. The Navy said it will be used for initial CH-53K operator and maintenance training along with three other helicopters due to be delivered early next year to support executing IOT&E.
"This contract award is a testament to the government's confidence in the CH-53K platform. This award shows that we are working hard to make the aircraft more affordable," Maj. Gen. Greg Masiello from the program executive office of air ASW, assault and special mission programs, said in a statement.
"The capability and affordability of the CH-53K is important to ensure that we provide a valuable addition to the United States Marine Corps and our friends and allies," Masiello added.
Last December, Naval Air Systems Command said a team of industry and government engineers mitigated and solved engine deficiency issues that were pushing back the aircraft's timeline (Defense Daily, Dec. 18, 2019).
The Defense Department's Director of Test and Evaluation (DOT&E) January 2019 annual report revealed CH-53K has multiple deficiencies like airspeed indication anomalies, low reliability of the main rotor gearbox, hot gas impingement on aircraft structures, tail boom and tail rotor structural problems, and hot gas ingestion by the number-two engine that could reduce available power (Defense Daily, Jan. 31).