A Navy official said the Marine Corps is due to start operating an armed MQ-9 Reaper unmanned aerial system (UAS) within months.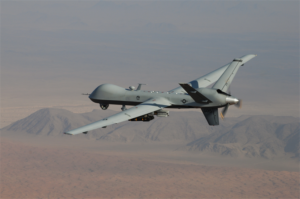 "Last year, in response to an urgent need statement from the United States Marine Corps, we helped them acquire an MQ-9 Reaper and operate it outside the continental U.S. in support of forces forward for persistent ISR (Intelligence, Surveillance and Reconnaissance)," Brian Corey, Program Executive Officer for Unmanned Air Systems and Strike Weapons, said during the virtual AUVSI Unmanned Systems on Sept. 9.
"We've recently transitioned to add a persistent strike capability which the Marines will operate in the coming months which will give them a capability that they have not had from unmanned systems," he added.
Corey argued the MQ-9 provides increased lethality to the Marine Air-Ground Task Force by providing persistent ISR and strike capability, "which the Marine Corps has not previously possessed in an unmanned system."
He added that combined the ISR and strike capability "will allow the Marine Corps to learn how to operate a group 5 UAS and inform the future of their MUX program."
Group 5 UAS is the largest type of unmanned aircraft according to DoD specification. It generally entails a weight over 1,300 pounds and also includes the RQ-4 Global hawk and MQ-4C Triton.
MUX is the future Marine Air-Ground Task Force Unmanned Aerial System Experimental (MUX) vertical takeoff and landing drone the service is developing for ISR to protect maritime forces.
Previously, on June 22 Naval Air Systems awarded General Atomics a $27 million contract to procure two MQ-9A Reaper UASs with a ground control station, mobile ground control station, and modular data center. The work is expected to be finished by December.