The Missile Defense Agency (MDA) awarded Lockheed Martin [LMT] a $933 million modification on Tuesday to produce additional Terminal High Altitude Area Defense (THAAD) interceptors for the U.S. and Saudi Arabia.
A contract announcement said this modification is exercising an option under an earlier contract for production of THAAD interceptors and associated one-shot devices to support the U.S. and Saudi Arabia Foreign Military Sales (FMS).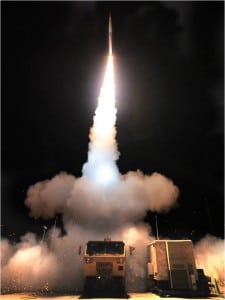 The interceptors and one-shot devices will be procured under fixed-price incentive firm target contract line items. This modification is increasing the total THAAD contract value from about $5.4 billion to $6.3 billion.
Work will occur in Dallas, Texas; Sunnyvale, Calif.; Huntsville, Ala.; Camden, Ark.; and Troy, Ala., and is expected to be finished by April 2026.
Fiscal year 2020 funds in $327.5 million in U.S. government procurement and $605 million in Saudi FMS procurement were obligated at time of award.
This award comes a week after Lockheed Martin awarded BAE Systems an unspecified contract to design and build next-generation infrared seekers for THAAD interceptors (Defense Daily, March 17).
Last July, MDA awarded Lockheed Martin a $1.47 billion under this award to procure more THAAD interceptor support items for FMS to Saudi Arabia. That award increased the total contract value from $3.89 billion to $5.4 billion (Defense Daily, July 22, 2019).