Lockheed Martin [LMT] has received a $183 million deal for its High Mobility Artillery Rocket System (HIMARS) launchers, which includes deliveries to the Marine Corps and Romania.
The latest HIMARS contract covers 28 launchers with deliveries to both customers set to begin in late 2022.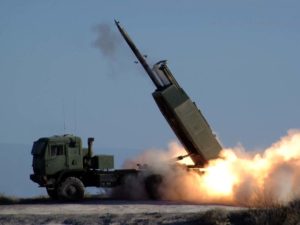 "These new HIMARS launchers will provide unmatched mobile firepower in support of multi-domain operations, and our allies can count on Lockheed Martin's continued support in maintaining these combat-proven systems," Gaylia Campbell, Lockheed Martin Missiles and Fire Controls' vice president of precision fires and combat maneuver systems, said in a statement.
HIMARS is a mobile launcher used to fire Guided Multiple Launch Rocket System (GMLRS) rockets and Army Tactical Missile System (ATACMS) missiles, both built by Lockheed Martin.
The launcher will also fire the future Precision Strike Missiles, which Lockheed Martin is also developing as the replacement for the legacy ATACMS missiles.