U.S. Indo-Pacific Command is seeking more than $27 billion to fund the new Pacific Deterrence Initiative (PDI) between fiscal years 2022 and 2027, according to an investment plan, with a focus on acquiring a new air defense system and precision-strike capabilities.
The executive summary of the plan, which was reviewed by Defense Daily
, calls for $4.7 billion in fiscal year '22 alone of which $1.1 billion would go toward investing in a range of joint lethality programs aimed at deterring China.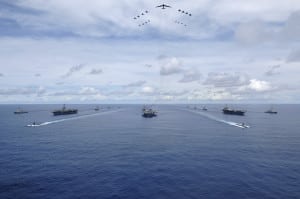 "The greatest danger to the future of the United States continues to be an erosion of conventional deterrence. Without a valid and convincing conventional deterrent, China is emboldened to take action in the region and globally to supplant U.S. interests. As the Indo-Pacific's military balance becomes more unfavorable, the U.S. accumulates additional risk that may embolden adversaries to unilaterally attempt to change the status quo," INDOPACOM officials wrote in the document.
INDOPACOM's top weapon system priority for priority is delivering a "360-degree persistent and integrated air defense capability" to Guam, to be called the Guam Defense System, with a call for $350 million in FY '22 funding and another $1.3 billion from FY '23 to '27.
"Guam is our most crucial operating location in the western Pacific and its defense remains USINDOPACOM's number one unfunded priority," officials wrote.
The remaining $22.7 billion in funding for PDI between FY '23 and '27 would cover another $6.6 billion for weapons programs.
The plan's largest investment for FY '22 is $408 million for ground-based long-range fires capable of distances greater than 500 kilometers, with the intent to spend another $2.9 billion from FY '23 to '27 on the weapons.
The document also calls for $168 million in FY '22 for a Tactical Multi-Mission Over-the-Horizon Radar in Palau to provide "persistent, long-range, detect and track [of] air and surface targets."
INDOPACOM is also seeking $100 million in FY '22 and $2.2 billion the following five years for a Space-Based Persistent Radars, as well as $206 million total for enhanced ISR augmentation capabilities.
"A constellation of space-based radars with rapid revisit rates to maintain situational awareness of adversary activities and provide low latency target custody and ground and air moving target indicators and represents a persistent queuing source for TACMOR and GDS," officials wrote. "High demand, low density, globally deployable capabilities require augmentation from specialized manned aircraft to provide discrete, multi-source intelligence collection requirements (SIGINT, COMINT, MASINT)."
PDI was established in the most recent National Defense Authorization Act, which authorized $2.2 billion in funds to start the effort (Defense Daily, Dec. 11).
Adm. Philip Davidson, the INDOPACOM chief, is expected to discuss the PDI investment plan during a discussion with the American Enterprise Institute on Thursday.