The chair of the House Armed Services Committee (HASC) on Tuesday pushed back on calls from progressive lawmakers to cut Pentagon spending, a day ahead of the panel's markup of the next defense policy bill that will include considering a $25 billion topline boost.
"A lot of people who criticize how much money we spend on defense talk about other priorities," Rep. Adam Smith (D-Wash.) said during a Brookings Institution discussion. "I don't have an enormous amount of sympathy for that argument right now because we just spent $6 trillion in the last year dealing with COVID. We've got proposals on the table to spend another I think almost $5 trillion on a variety of other different priorities."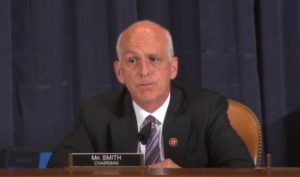 A group of 25 progressive lawmakers sent a letter Monday to Smith urging him to resist accepting a topline above the president's requested $715 billion funding level for the Pentagon in fiscal year 2022.
The letter, which was led by Reps. Mark Pocan (D-Wis.) and Barbara Lee (D-Calif.), arrived the same day that Rep. Mike Rogers (R-Ala.), the top Republican on HASC, filed an amendment to increase the NDAA topline by $25 billion, matching GOP calls to go after a three to five percent annual defense spending growth (Defense Daily, Aug. 30).
The Senate Armed Services Committee in July previously voted to approve a $25 billion boost to its own version of the NDAA (Defense Daily, July 22).
While Smith has previously rebuffed GOP calls to increase spending and instead attempted to focus the discussion on how to best spend the requested topline figure, his comments Tuesday signal there may be potential bipartisan support for Rogers amendment to pursue an increased budget number.
"I don't support the argument that you look at the defense budget and say 'Oh my gosh, we can't spend another $25 billion because we have all these other priorities.' We spend a lot of money on all those other priorities," Smith said.
Smith specifically pushed back on progressive lawmakers' arguments that a reduced U.S. military footprint and the Pentagon's financial waste challenges support calls to reduce defense spending.
"We do need some resources in order to be able to do that deterrence. We do not want to go to war with China. I and I don't think anyone else on the committee is planning on going to war with China. But part of the way we prevent that is we build alliances. We make sure that China doesn't think that they have carte blanche to just take whatever territories in their neighborhood because they feel like it," Smith said. "To say that some money has been wasted at the Pentagon and we, therefore, shouldn't spend any money at the Pentagon, I think, misses the point of what national security policy is about."