Any Guam missile defense system would need the Navy's SM-6 missile for its utility in hyperosnic missile defense, a Missile Defense Agency (MDA) official said last week.
SM-6 is a "fantastic missile, just absolutely great missile" because it performs various missions like self-defense, area defense, force level defense, prompt sea strike and sea-based terminal defense of hypersonic weapons," Rear Adm. Tom Druggan, Program Executive for Aegis Ballistic Missile Defense (BMD) at MDA, said Nov. 18 during a Center for Strategic and International Studies maritime security series event.
"It is our leading defensive capability for hypersonic missile defense. And we would definitely need that. That's the one thing, for Guam, we really need that HMD (hypersonic missile defense)," he said.
Druggan did not say what the agency's recommendations to Congress are on Guam, but illustrated the variables they are considering.
He said the first part of determining the right capabilities for adding defenses to Guam is deciding what the mission is: denying North Korea, deterring China, and/or denying China.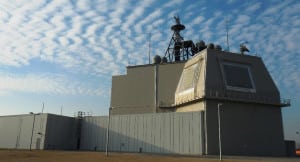 "So each one of those you come up with a different set of options in order to meet that mission. So once you kind of have an overarching mission need, what we're trying to do from a strategic perspective – then you get to Guam," Druggan said.
"Aegis is an acceptable alternative, one of the options when it comes to the defense for Guam because we do BMD, we have some hypersonic missile defense capability and we have cruise missile defense capability. And we do it 360 degrees and we do it reliably with the right level of firepower and we're also fighting at the network level – both Navy., NIFC-CA (Navy Integrated Fire Control-Counter Air) and BMD with engage on remote, launch on remote. So that's a pretty robust integrated air and missile defense capability wherever you want it – ashore, aland, that's the piece."
Druggan also said DoD also needs to decide on survivability.
For Guam that means deciding if they want a single Aegis Ashore deckhouse with all the capability in one spot, like at the facilities in Romania and Poland.
"Or do you want to disperse that? And if you want to disperse some of it, do you want to disperse it or want it mobile in order to increase the survivability? So that's a rich and valid discussion to have."
The department also needs to decide how to deal with a cruise missile defense capability from weapons coming over the water.
"How does that work with where we would put launchers on Guam, where would those intercepts occur? Is a naval missile optimized for over water intercepts legitimate, or is there work to be done if their intercepts are over land. Versus land-based options that are already qualified over land and may have capability over water. So that's a fair trade, particularly in the cruise missile domain in how to do that," Gruggan continued.
He said there is no decided architecture he can talk about yet, "but it is coming. There's a good, rich debate I think that's fair, to finally come up with the solution that we need to go forward with."
Druggan also compared land-based missile defenses to posting an Aegis-capable vessel to Guam. While that is feasible, he said that really means devoting three to five vessels to the station when accounting for which ships are in maintenance, in training, in advanced training, and actually deployed on the mission.
"You have to have all of those if you want somebody on that mission in that spot all the time. And that's a multi-mission ship and that ship has other jobs that the combatant commander would really like that ship to be doing, instead of just doing a single mission, for instance missile defense. And it doesn't matter where it is," Druggan said.
He also noted if three destroyers are needed for basic ballistic missile defense requirements that entails up to about 900 sailors while an Aegis Ashore system on a rotational basis would require only about 100 sailors.
Last June, MDA Director Vice Adm, Jon Hill said he and Commander of Indo-Pacific Command (INDOPACOM) Adm. John Aquilino are agnostic on what the actual final system is. Hill added he did not think anybody would be surprised on what the final architecture and investment would be for Guam missile defense systems but they will cover ballistic, cruise and hypersonic missile threats. Hill said they might use a hybrid system and not merely replicate Aegis Ashore alone (Defense Daily, June 23).
Last year, former head of INDOPACOM Adm. (Ret.) Phil Davidson said his top priority for INDOPACOM implementing the National Defense Strategy was installing an Aegis Ashore Baseline 10 facility in Guam (Defense Daily, July 22, 2020).