Joby Aviation received the first military airworthiness for an electric vertical take-off and landing (eVTOL) vehicle from the AFWERX Agility Prime program, Will Roper, Air Force and Space Force acquisition technology and logistics chief, announced during the AFWERX Accelerate webinar on Dec. 10. Joby Aviation and Beta Technologies
also broke ground on charging and simulator stations at Springfield Airport in Ohio during the webinar.
"This is an exciting announcement because it means you are literally seeing a new market emerge," Roper said. "This is exactly the type of public-private partnership innovation the Air Force and Space Force want to be a part of. We want to make amazing things happen, not just for the military, but for the world. We are excited to see what's to come for Joby and other companies pushing the boundaries of electric vertical takeoff and landing or flying cars."
In February Agility Prime launched its Air Race with three different categories of technical requirements for certification, Col. Nathan Diller, AFWERX Director, said. The three categories are broken down by payload, range, speed, and endurance.
"We have three areas of interest in which we want to tailor or kind of segment the market. You'll find that we have the three- to eight-passenger, your one to two-passenger, which is like your trainer, and then your third, which is your cargo only," Natasha Tolentino, program manager for Agility Prime, said.
Joby Aviation and Beta Technologies matured their technologies and were able to move forward in the Air Race. Both companies then proceeded to work with the Air Force airworthiness authority to create a plan for airworthiness assessments and military flight releases, Diller said.
The Agility Prime program provided access to facilities, resources, and equipment for prototype testing, JoeBen Bevirt, CEO of Joby Aviation, said. He said during the testing they worked on reducing the quality and tone of the noise the aircraft makes so it would be less intrusive.
"Our target is really to have these aircraft be a mainstay of daily mobility and that means that they have to blend into our environments," Bevirt said. "So that's kind of a foundational thesis of our aircraft design and one of the beauties of electric propulsion."
During the webinar, Joby Aviation and Beta Technologies broke ground on simulator stations and a charging station for Beta Technologies at the Springfield airport in Ohio. The simulators will give pilots an opportunity to experience flying these next-generation aircraft, Bevirt said.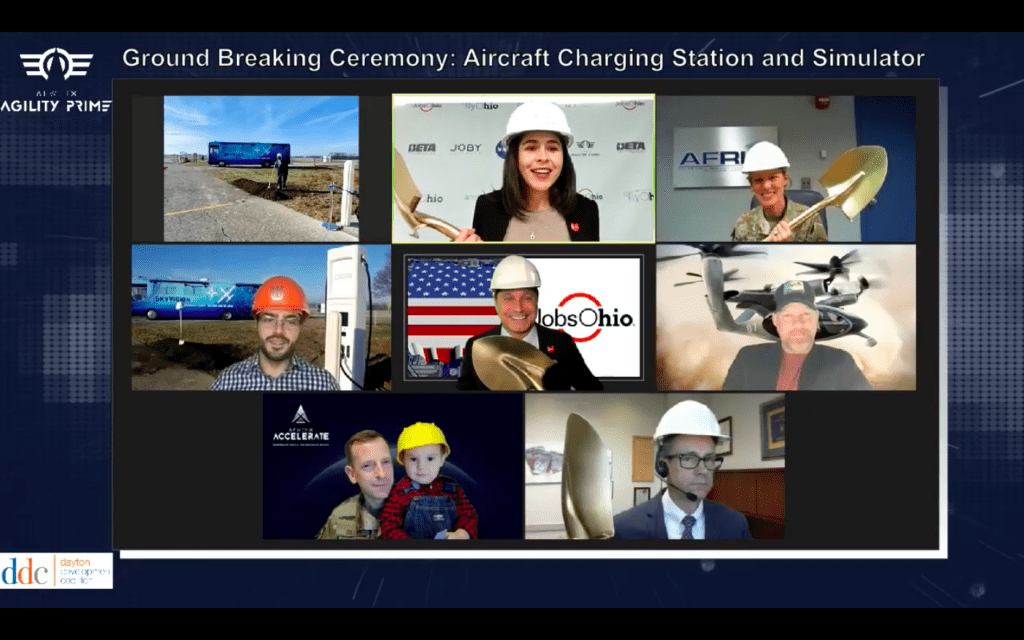 The ground breaking ceremony for Beta Technologies and Joby Aviation occurred virtually during the AFWERX Agility Prime webinar.
Brig. Gen. Heather L. Pringle, Commander of the Air Force Research Laboratory (AFRL), also announced a partnership with the Ohio Department of Transportation, Ohio unmanned aerial systems (UAS) group, and AFRL to field and operate a ground-based detect and avoid system at the Springfield Beckley Municipal Airport.
"The system is SkyVision, and it will meet research and development requirements for unmanned aerial vehicles operating beyond visual line of sight in the national aerospace system," Pringle said. "SkyVision helps us accelerate innovation for the state and for the nation. For the warfighter, SkyVision enables AFRL to develop and field innovative unmanned aerial solutions to meet warfighter requirements faster and more cost-effectively."
Joby Aviation also announced a $75 million investment by Uber that included the acquisition of Uber Elevate this week.