The Pentagon is aiming to announce a decision by the end of August on re-awarding the contract for its potential $10 billion Joint Enterprise Defense Infrastructure (JEDI) cloud competition, as well as preparing dozens of contracts for its first group of 5G pilot programs within the next couple months.
Dana Deasy, DoD's chief information officer, provided the update to reporters on Thursday, including the latest on the JEDI cloud program, which will go to either Microsoft
[MSFT] or Amazon Web Services [AMZN], following a court-ordered reevaluation process.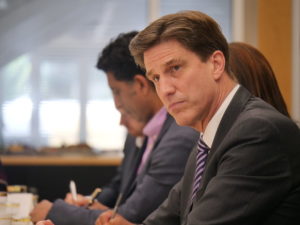 "We are still on schedule to do a re-announcement of our intentions to award probably sometime toward the very end of August barring any last minute unforeseen additional issues that are raised," Deasy said.
Microsoft originally won the JEDI cloud contract last October, while AWS, the other finalist, has mounted a legal challenge over the competition.
A federal court in April granted the Pentagon's motion to remand AWS' lawsuit allowing the department to review technical aspects of the contracting process and reevaluate proposals for the program (Defense Daily, April 17).
Deasy also said the Pentagon is readying to award three dozen contracts totaling more than $180 million for its first group of 5G pilot programs by the end of the fiscal year.
"DoD is pursuing an approach of partnering with industry to utilize, protect and influence 5G technologies and systems," Deasy said. "We're now at the point where we are ready to make the awards to specific companies to help us work on those bases on those specific 5G projects."
The initial "Tranche 1" group of five pilot programs include experimentation with smart warehouses at Marine Corps Logistics Base-Albany in Georgia and Naval Base San Diego, augmented and virtual reality at Joint Base Lewis-McChord in Washington and dynamic spectrum sharing at Hill AFB in Utah.
The solicitation effort to participate in those programs closed at the end of May.
The Pentagon announced its next round of 5G experimentation locations, with Deasy telling reporters RFPs for those projects will also be out before the end of the fiscal year.
The latest round of 5G pilot programs will specifically focus on ship-wide and pier connectivity at Naval Station Norfolk, enhancing aircraft mission readiness at Joint Base Pearl Harbor-Hickam, augmented reality at Joint Base San Antonio, wireless connectivity for Forward Operating Bases and Tactical Operations Centers at the National Training Center and Fort Hood, network security tests at Joint Base San Antonio and bi-directional spectrum sharing at Tinker AFB (Defense Daily, June 3).