The Senate on Friday voted to override President Trump's veto of the $741 billion fiscal year 2021 National Defense Authorization Act, with the bill now set to become law without his signature.
The bipartisan 81 to 13 vote, which joins the House's 322 to 87 vote on Monday, is Congress' first veto override of Trump's presidency.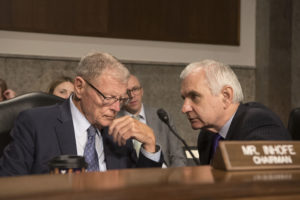 Trump vetoed the bill on December 23, following through on his repeated objections to the bill's directive for renaming bases named after Confederate leaders and for not including a provision for stripping a social media-related regulation (Defense Daily, Dec. 23).
"President Trump tried to make this vote a loyalty test and an overwhelming majority of U.S. Senators demonstrated their loyalty to the common defense and to the men and women of the United States Armed Forces who defend our nation," Sen. Jack Reed (D-R.I.), the Senate Armed Services Committee ranking member, said in a statement. "It was irresponsible for President Trump to veto this measure over issues that weren't in the bill and had nothing to do with national defense."
Lawmakers over the last several weeks urged the president to reconsider his push to block the bill, which originally passed both chambers with bipartisan support, citing the legislations' authorization of new weapons programs, an array of cyber security provisions and troop pay raises.
The 13 'no' votes on Friday included several senators who also opposed the base renaming directive, such as Sens. Tom Cotton (R-Ark.) and Josh Hawley (R-Mo.), as well as a progressive senators who have called for a reduction to the defense budget topline, such as Sens. Bernie Sanders (I-Vt.) and Elizabeth Warren (D-Mass.).