Congress on Thursday voted to approve a waiver that would allow Ret. Gen. Lloyd Austin to serve as the next Secretary of Defense, paving the way for a Senate confirmation vote.
Both chambers had bipartisan support to grant an exemption for Austin, who has not been out of the military for the required seven years, with the House and Senate voting 326 to 78 and 69 to 27, respectively.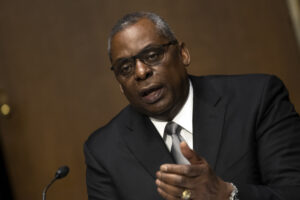 "Today the House sent a clear message: Secretary-designate Austin is an extremely qualified leader who should be swiftly confirmed by the Senate and assume the role of Secretary of Defense. Our country faces a myriad of national security challenges, and President Biden deserves the cabinet of his choosing as his administration seeks to address these challenges," Rep. Adam Smith (D-Wash.), chair of the House Armed Services Committee, said in a statement following the House's vote.
Austin, who would be the first Black Secretary of Defense if confirmed by the Senate, retired from the military in March 2016 where he oversaw operations against ISIS during his time leading U.S. CENTCOM, was the vice chief of staff of the Army from 2012 to 2013 and led the effort to withdraw combat forces in Afghanistan in 2011.
Lawmakers on both sides of the aisle had raised concerns over needing to grant a waiver for the second time in four years, with SASC holding a hearing on civilian control of the military and HASC members meeting with Austin for a closed-door meeting before voting on Thursday. 
"This is not an easy question. Civilian control of the military is enormously important and that is why this law was put in place," Smith, who initially expressed reservations about nominating a recently retired general, said during floor debate Thursday. "I can tell you and all members voting, without a shadow of a doubt, I have no concern whatsoever about Lloyd Austin upholding civilian control of the military."
Several House Republicans were split on how Austin's lack of political experience would fare in regards to budget discussions as the Pentagon faces a likely flat or declining topline in coming years.
Rep. Mike Gallagher (R-Wis.), who opposed the waiver, said he believed Austin would have a tougher time pushing for department resources in budget negotiations while Rep. Mike Rogers (R-Ala.), the HASC ranking member, viewed him as a proponent in the Biden administration for securing DoD dollars. 
"I believe [Austin] will stand up to the efforts of many in the Democrat majority who seek to slash defense spending and rewrite our defense strategy," said Rogers, who voted in favor of the waiver.
During his confirmation hearing Tuesday, Austin committed Tuesday to extending his recusal from decisions involving Raytheon [RTN], where he has served on its board, for four years and pledged to not work for a defense firm after completing his government service (Defense Daily, Jan. 20).