Defense Secretary Lloyd Austin told lawmakers Tuesday he would not allow stockpiles of munitions such as Javelin and Stinger missiles to fall below minimum levels, adding that the new $33 billion supplemental funding request to Congress would assist in replenishing large portions of that equipment within the year.
"It's very critical to make sure that we maintain what we consider to be our minimum required stockage levels. And you can rest assured that I will not allow us to go below that in critical munitions," Austin told the Senate Appropriations Defense Subcommittee (SAC-D). "This next supplemental that the president has asked for [Congress'] support on will enable us to do what you just described; replenish stocks and also continue to support Ukraine."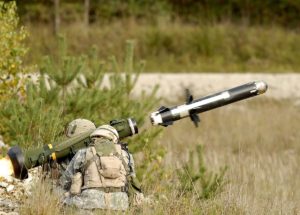 The U.S. has provided Ukraine with more than $3.4 billion in military equipment since the beginning of the Russian invasion, to include thousands of Javelin and Stinger missiles, with the SAC-D panel pressing Austin on the department's plan for replenishing those stockpiles.
"Our missile stockpiles are being stretched thin after years of producing at minimum rate of sustainment and increased demand resulting from the U.S.' current efforts to bolster Ukrainian defense. I think that's stretching that very, very thin. I'm hearing from industry some of the challenges they face with trying to increase production rates while shortening lead times," Sen. John Boozman (R-Ark.) said during the hearing.
Austin responded that DoD has met industry to discuss steps required for increasing production line capacity to ensure the U.S. can maintain the flow of equipment to Ukraine while working to replenish munitions stockpiles.
"They are leaning forward. In some cases, it's a little bit more difficult to do than others. But industry has been very supportive," Austin said. "We'll continue to work with them. We'll continue to identify things that we need from [the committee] if a need arises. But I think to this point, we're in pretty good shape."
Senior Pentagon leaders held a meeting last month with the leaders of the major defense contractors to discuss the rate of production for systems that have been delivered to support Ukraine and the possibility of accelerating and expanding those production lines (Defense Daily, April 13).
Sen. Roy Blunt (R-Mo.) added the current numbers for equipment committed to Ukraine accounts for "about a third" of the U.S.' stockpile of Javelins and "about 25 percent" of the Stinger inventory, asking Austin if its possible to replenish these stockpiles within the year.
"It certainly is [possible]. It's not only possible but we will do that. We will never go below our minimum requirement for our stockpiles. We'll always maintain the capability to defend this country and support our interests," Austin responded.
Austin reiterated that the new $33 billion supplemental request for Ukraine would be a critical piece to ensuring the department can make progress backfilling those munitions stockpiles.
"All of it won't be replaced within a year. We'll see production lines operate at different speeds, just based upon what they are," Austin said. "[For Javelin], we're optimistic about industry being able to increase the production rate in a very meaningful way. And there are decisions to be made on the Stinger going forward. But in every case, industry has leaned into this and is willing to increase production as much as possible."
The new Ukraine aid supplemental funding request detailed last week calls for over $16 billion to support Department of Defense efforts, including $5 billion for drawdown authority and another $6 billion for the Ukraine Security Assistance Initiative (Defense Daily, April 28).
The supplemental would also establish a Critical Munitions Acquisition Fund, which Austin told reporters last week "would allow the department to purchase and establish a strategic reserve of vital munitions, like anti-aircraft and anti-tank munitions to surge for this crisis and, quite frankly, crises to come."
Austin told the panel Tuesday that DoD is "at the very end" of its current drawdown authority and is "very quickly going to run out of funds" provided in the first Ukraine aid supplemental.
President Biden visited Lockheed Martin's Javelin manufacturing facility in Troy, Alabama on Tuesday where he called on Congress to take up the supplemental as quickly as possible.
"Some of the best, most effective weapons in our arsenal are Javelin missiles, like the ones manufactured right here in Pike County. They're highly portable. They're extremely effective against a wide range of armored targets," Biden said. "I am once more urging Congress to to quickly pass this supplemental funding bill for [$33] billion to help the Ukrainians so they can keep all of you very, very busy for a while here."