The Army is beginning to assess potential requirements for a Universal Robotic Controller that could be used across its full suite of robotic programs, an official said Thursday.
Maj. Jeremy Howell, deputy robotics team chief, detailed the latest with the Army's portfolio of robotic programs during a virtual NDIA event, including plans to begin fielding the new Common Robotic System-Heavy (CRS-H) this month.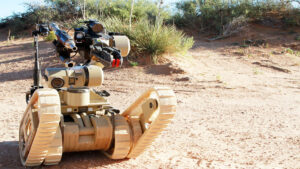 Howell said the Army expects to complete initial fielding of the CRS-H by fiscal year 2022, as it looks to roll out the unmanned ground vehicle capable of handling heavy-duty tasks such as explosive ordnance disposal.
Nearly a year ago, the Army awarded FLIR's [FLIR] Endeavor Robotics a five-year production contract for CRS-H potentially worth $109 million to deliver up to 350 FLIR Kobra robots, which are capable of lifting up to 300 pounds and reaching out over 11 feet and around obstacles (Defense Daily, Nov. 15 2019).
The Army is also going through conditional materiel release testing for the Common Robotic System-Individual, which is the Army's first small ground robot, with plans to begin fielding in the second quarter of FY '21.
QinetiQ North America was awarded a seven-year, $165 million deal in March 2019 to deliver a robot that weighs less than 25 pounds and is able to be carried in a soldier's backpack on the battlefield (Defense Daily, March 16 2019).
Howell said the Army has not yet made a decision on whether to pursue a Common Robotic System-Medium, adding that may change if industry is able to demonstage a "10x level of improvement" over the current common ground robot chassis.
For the Universal Robotic Controller (URC), Howell noted the Army is studying the sort of capability it will require as it looks to roll out thousands of ground robots and small UAS systems in the near future.
"Almost every program that we have now leads back to Universal Robotic Controller. Currently, the Army's conducting a study to identify what that final solution ought to look like. So I don't know what that's going to look like right now. What I can tell you is that we'll be putting small UAS as well as ground robotic platforms, thousands of them, onto the battlefield," Howell said.
Howell said the Army needs to understand if the URC will be a specific piece of hardware or a common software system to connect robots.
"The question that we have is how do we communicate with this vast number of robots, so that they are able to be a force multiplier for the commander instead of a distraction. How do they interact with each other? Is [the controller] a standard piece of hardware that controls all robots or are we looking for a software that enables each of the different systems to interact on a common medium of communications?" Howell said. "Think big and think far on this. The Army, like I said, is going to continue to do their study. And more to follow on that."