France's Thales said Tuesday the company has received the third order under the Army's Leader Radio program for additional deliveries of its two-channel AN/PRC-148D Improved Multiband Inter/Intra Team Radio (IMBITR).
The software-defined IMBITR handheld radio is now going through Operational Test and Evaluation, along with two-channel radios from
Collins Aerospace [UTX] and L3Harris [LHX], to demonstrate capability for supporting the Army's new Integrated Tactical Network (ITN).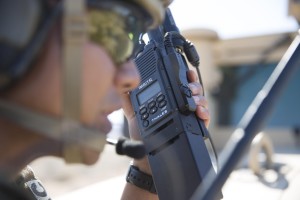 "Thales is pleased to be a continued key contributor to the Army's Leader Radio Program and fielding in support of the Integrated Tactical Network. With the new Thales AN/PRC-148D IMBITR radio, soldiers will experience continued benefits from a decisive tactical advantage that comes with using the most capable radio on the market," Mike Sheehan, CEO of Thales Defense and Security, said in a statement.
A full-rate production decision for three companies participating in the Leader Radio program is set for this year, as the Army looks to field large quantities throughout the service to solidify the ITN.
The latest award will bring the Army's total order for Thales' IMBITR to over 6,000 radios, with the service fielding the systems for several soldier touchpoint events to gather feedback before the start of this month's ITN evaluation.
Thales said to date the feedback from the soldier evaluations "was highly positive affirming IMBITR's ability to provide cutting-edge tactical communications for mounted or dismounted soldiers."
"IMBITR is the first 2-channel handheld radio providing soldiers with critical narrowband, tactical communications capabilities along with a second wideband channel providing world-class WREN-TSM mobile, ad hoc networking waveform," the company wrote in a statement. "Together, these capabilities provide assured, simultaneous networked voice, data and video communications for improved situational awareness and real-time decision-making."