The Army is working to mitigate the coronavirus pandemic's impact on its supply chain with progress payments and small business loans, the service's secretary said Thursday, as it anticipates dealing with the challenge for "months and months ahead."
Secretary Ryan McCarthy called the ramifications for second- and third-tier suppliers his top concern as the Army looks to implement new strategies to keep production lines open.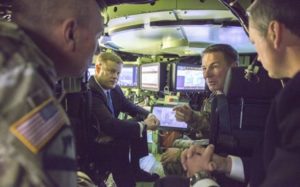 "We're in constant communication where we're trying to help these manufacturers to strengthen their balance sheets. If they have liquidity challenges, we can do progress payments. We're talking about small business loans. We're doing things to help them with their second and third-tier suppliers," McCarthy said during a Brookings Institution discussion.
McCarthy's comments followed remarks earlier in the day from Ellen Lord, the Pentagon's top acquisition official, calling on prime contractors to continue efforts to push payments down to smaller, more vulnerable companies in their supply chain (Defense Daily, April 30).
The Pentagon is utilizing a $3 billion progress payment plan to assist industry partners in accelerating payments to distressed companies, with $1.2 billion already processed and the remaining $1.8 billion to go out within the next two weeks.
The Army has also received calls from contractors specifically seeking help with suppliers in other countries that have had their production lines slowed down.
"Mexico, Europe, East Asia, where we are limited in our ability to affect them in getting them back to work. It calls into a question a lot of these strategic industrial base issues that we will have to relook and have a really hard conversation with ourselves of how we're going to source these things in the future," McCarthy said. "So now I'm going to the State Department to get them to help us get these people back to work. It presents challenges that are far beyond our reach."
Senior Army officials told reporters recently they do not expect the pandemic to delay initial fielding of any major modernization systems, with mitigation plans in place to make up for likely test and evaluation delays in the near-term (Defense Daily, April 23).