The Army is in the process of negotiating its final multi-year contracts for the Black Hawk and Apache helicopters, as the service shifts its priority to the Future Vertical Lift (FVL) fleet, an official said Wednesday
Brig. Gen. Rob Barrie, the Program Executive Officer for Aviation, specifically said that maintaining readiness for the Army's Apache, Black Hawk, Chinook and legacy unmanned and fixed-wing aircraft remains a priority for his office but at a tier below development of the Future Long Range Assault Aircraft (FLRAA) and Future Attack Reconnaissance Aircraft (FARA).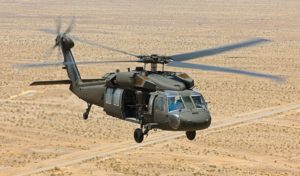 "From a priority perspective, undoubtedly, that is below what we're doing with the Future Vertical Lift fleet. However, there is targeted and very specific modernization of those enduring fleet aircraft we have to balance against our development of the Future Vertical Lift fleet," Barrie said.
The Army plans to begin fielding FLRAA in 2030 and FARA in 2028 to set the course for its future fleet, while the Sikorsky [LMT]-built Black Hawk has been in service since 1979 and Boeing's [BA] Apache since 1986.
Bell [TXT] and a team of Sikorsky-Boeing are currently competing for FLRAA, with a downselect decision for a production contract slated for late FY '22, while Bell and Sikorsky are currently in the competitive prototyping phase for FARA with a first flight scheduled for the first quarter of FY '23.