The Army's new acquisition executive said he believes the service can secure additional funding for its modernization portfolio if it shows Congress early success transitioning new weapon systems from prototyping into production.
Doug Bush, who was sworn in as assistant secretary of the Army for acquisition, logistics and technology (ASA (ALT)) on Feb. 11, told reporters Thursday he's "very comfortable" with the current status of modernization programs, as several efforts are headed toward fielding over the next year.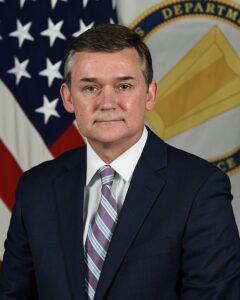 "I am very comfortable with almost every [modernization] program right now in terms of its general direction of travel, the requirements being reasonable and that our cost estimates are pretty good," Bush said during a media engagement. "We will earn additional funding to field things if we show, as an Army, that we can get things through R&D, prototype, soldiers like it and get it into the field. So we've got to put some points on the board. And I think we will. And that will enable us to compete with all the other needs of the Army…to ensure we get enough funding in modernization to achieve the goals."
Bush cited several modernization efforts that are set for production decisions or are moving into fielding over the next year: the Next-Generation Squad Weapon and the Mobile Protected Firepower light tank which are both awaiting upcoming source selection decisions, the Lockheed Martin-built Precision Strike Missile, Raytheon Technologies' [RTX] LTAMDS radar for the Patriot air and missile defense system and the first Long Range Hypersonic Weapon battery.
Senior Army leaders, including Secretary Christine Wormuth, have said several times over the last year the Army may need to look at adjusting the program schedules of its modernization efforts as a means to create budget flexibility.
Gen. James McConville, the Army chief of staff, said last week that cuts may be possible to the service's more than 30 signature systems in development if future resources are constrained (Defense Daily, Feb. 10).
Bush, who served as the acting ASA (ALT) for a portion of last year, noted that assessments of the modernization portfolio are always ongoing in relation to potential budgeting decisions and that any such adjustment to a specific program would be based on cost, schedule and performance parameters.
"Modernization, as I believe the chief and secretary have said, is not the only thing being looked at. They're looking at everything and I think that's appropriate," Bush said. "There are many dials to be turned. Programs' timelines can be adjusted. If the Army's force structure changes we would have to adjust how many things we produce. If industry has challenges that can be part of the discussion."
The Army has shifted funds from lower priority legacy and enduring systems over the last several budget cycles to fully fund modernization development, while officials have said tougher decisions lay ahead on where to make specific cuts or adjustments to existing programs.
Bush, while in the acting ASA (ALT) role, told the Senate Armed Services Committee last June the Army's planned program reductions to fund modernization means the service must accept some level of risk as it develops new systems (Defense Daily, June 15 2021).
"The secretary's right, the easy things have been done. And you hit a point in certain portfolio areas where if you go any lower you're putting the industrial base for that portfolio at risk. That's the kind of thing you have to think through, not just individual programs where you can talk yourself into an adjustment. You have to take a step and a broader view to make sure we're retaining the capacity in industry we need in some of those areas that are maybe not as high priority but are still super important to the Army," Bush said Thursday.