The Army's top acquisition official on Tuesday detailed potential options that could help speed up deliveries of new Abrams tanks to Poland, following the country's recent agreement to procure 250 M1A2 Abrams.
During a House Armed Services Tactical Air and Land Forces Subcommittee hearing, Rep. Mike Turner (R-Ohio) asked Army acquisition executive Doug Bush about the potential for ramping up production capacity at the Lima Army Tank Plant in Ohio to move up the delivery timeline.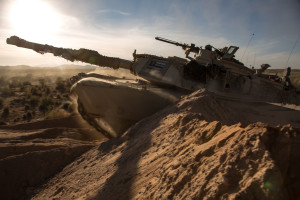 "Over the last 10 years, as you know, there's been decisions that have been made that almost resulted in the plant closing. But you actually worked with us and helped to ensure that plant remained open," Turner said. "Unfortunately, the time period for getting those tanks to them is now the end of 2024 or early 2025 to start. The tank plant is currently producing about 15 tanks a month. It could produce more. Considering what's happening with Ukraine and Russia, obviously it is much more important that we get those tanks to them."
Bush, who called the Lima plant "a national treasure," said continued funding support from Congress to invest in the facility would bolster efforts to meet increased tank production demand.
"In terms of the industrial base itself, it's great to see the plant at 15 tanks a month. I remember when we were fighting to keep it at one tank a month. But I know it can do more and I know the workforce can do more," Bush said. "I think if the Army continues to invest, and I know we got great support from Congress last year, thank you for that, that'll help the industrial base broadly. Simply put, the more tanks going through there, the healthier the industrial base that feeds it."
Turner noted the Army's unfunded priorities list for fiscal year 2023 includes seeking additional resources for modernization and procurement of Abrams tanks.
"It was one of our more difficult choices in terms of where to adjust funding to maintain funding for other modernization priorities. We wanted to ensure it was high on the [unfunded priorities] list, and the chief of staff, luckily, concurred with that view," Bush responded. "If we can get help there, the Army would be glad to accept it. And we are ready to execute and crank that production line up even more than it already is now."
The State Department in mid-February approved an estimated $6 billion Foreign Military Sale with Poland for the 250 M1A2 Abrams, with Defense Secretary Lloyd Austin citing the deal as a key means of bolstering the military capability of its NATO ally (Defense Daily, Feb. 18).
"It was also great to see that [Poland tank] order finally come through. I know it took awhile. There were reasons for that. I could tell you offline. But we got there and it's very important," Bush said.
Bush said a potential option to speed up the tank deliveries could include prioritizing getting the new Abrams to Poland over fielding to the U.S. Army or shipments for other allies and partners.
"Those are dials we can turn. The Army is normally not the one to decide that. That would normally be [the Office of the Secretary of Defense]. But that is one option, sir," Bush said.
The Army is also thinking through how new lend-lease authorities could be leveraged to "think creatively about how we can provide [Poland] with tanks in the interim," Bush added.
"Those are very nascent conversations, though, so I would have to come back to you with more details in a classified space, sir, to give you the whole story," Bush said.
In the meantime, Bush said efforts are underway to establish a training activity with Poland to allow for "initial familiarization" on Abrams tanks before beginning deliveries.
"That is a mitigation to try to get them a head start on all the people-side of operating an Abrams tank and doing logistics," Bush said.