The head of U.S. Transportation Command said Tuesday officials will consider options to temporarily lease tanker aircraft from the private sector to meet ongoing readiness challenges.
Army Gen. Stephen Lyons, commander of TRANSCOM, told attendees at an Atlantic Council event he remains concerned about the availability of aerial refueling capacity with the delayed fielding of the KC-46 tanker and the readiness of the Navy's aging fleet to meet surge capacity requirements.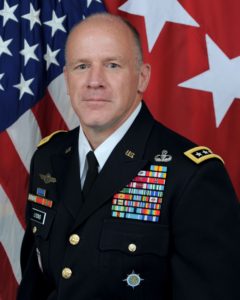 "If you were to ask me my top two readiness concerns, one of them is sealift. We've got to do something about the sealift problem. The second I would tell you is we've got to figure out a way to mitigate the delayed fielding of the KC-46."
Lyons specifically cited the aerial refueling challenge as TRANSCOM's greatest area of concern following the Air Force's decision that it would indefinitely delay deployment of Boeing's [BA] KC-46 tanker while the company continues to address issues with the aircraft's remote vision system.
"Across TRANSCOM, the aerial refueling force element is the most stressed and probably the one that's pushing or exceeding the red line," Lyons said.
Addressing the aerial refueling readiness setbacks could include retaining legacy for longer than previously anticipated alongside working with industry to lease aircraft to temporarily meet transportation gaps.
"I think it's worth a look. There's a lot of capability that gets used, whether it's for training or other activities, and I think there are opportunities to reduce the tension or stress on that particular force element," Lyons said.
Lyons added that the option could "take the pressure off the force," while noting that such aircraft could never be employed in contested or combat environments.
On the sealift end, Lyons noted that TRANSCOM's recent "turbo activation" event to put ships through a stress test affirmed concerns that the Navy's aging fleet poses readiness challenges.
"We kind of confirmed what we knew, and that's the readiness of the fleet today is not where it needs to be. The Navy acknowledged that. [TRANSCOM] acknowledges that," Lyons said.
The recent sealift capability test was the largest ready reserve fleet demonstration since 2003, according to Lyons, and involved activating 33 ships on short notice.
Lyons added that TRANSCOM is focused on reducing on the age of the fleet after facing continued service life extension with many ships in the reserve fleet pushing past 15 years.
"It's very difficult to conduct service life extensions on a ship that's that old. What we're finding is the money that's programmed against it is woefully insufficient to come back out of the shipyard in ready status. What we want to do is reduce the age of the fleet and improve reliability," Lyons said.