Thales USA officials this week detailed the company's interest in providing Future Vertical Lift (FVL) capabilities, to include a new multi-mode radar, helmet-mounted displays and a modular avionics system, with an emphasis on meeting the Army's priority for open architecture requirements.
Ryan Walters, Thales Visionix's FVL and rotary wing business development manager, told
Defense Daily the company expects a more complete picture of the Army's plan to pursue FVL subsystems within the next 12 to 24 months.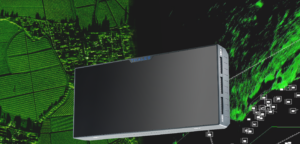 "What we do goes from tip to tail of the helicopter, top to bottom and everything in between. Thales has a very broad portfolio, everything from the [new] AirMaster C radar to helmet-mounted systems. We have infrared countermeasures. Thales has a solution for almost every area of the helicopter," Walters said during a briefing for reporters. "There have been published requests for proposals from the respective manufacturers [pursuing FVL airframes]. It's something that anybody within industry would respond to. That's ongoing."
The Army's FVL campaign includes pursuing the Future Attack Reconnaissance Aircraft (FARA) to find its new scout attack helicopter and the Future Long Range Assault Aircraft (FLRAA), which will replace the service's Black Hawks.
For FARA, the Army has selected Bell's [TXT] 360 Invictus and Sikorsky's [LMT] Raider X for a competitive prototyping phase, with first test flights slated for late 2022. For FLRAA, Bell's V-280 tiltrotor offering is competing against a Sikorsky-Boeing [BA] team's Defiant X platform, with a production contract to be awarded in late fiscal year 2022.
Thales officials said the company has been in contact with both the Army on its offerings, as well as the manufacturers pursuing airframes, as plans take form on how subsystems will be procured for each platform.
"We're not choosing sides here. That's the beauty of a lot of our stuff. It's platform-agnostic at the aircraft level and, often, platform-agnostic at the computational level," said Jim Sleigh, avionics solutions manager for Thales Avionics.
Sleigh noted the Army's emphasis on Modular Open Systems Architecture (MOSA) as a key piece to FVL development, which service officials have said will allow for rapid technology insertion and long-term cost savings on both future platforms and the enduring fleet (Defense Daily, May 3).
"That MOSA concept is really in our DNA for everything we do. Whether it's at the component level or at the full system level, we've been doing MOSA for a long time. Thales is one of the leaders and innovators of what's called integrated modular avionics in the commercial world," Sleigh said.
One proposed offering for FVL is the new AirMaster C radar, which Thales said is the "lightest available radar system," noting it can operate up to 12 modes simultaneously and provides up to 240-degree coverage, or 360-degrees with the addition of optional smaller panels.
"The Army has talked to us a great deal about this system. We've had them out to [our] Clarksburg, [Md. facility]. We've had them review the system," Mike Donaldson, Thales Defense & Security director of advanced programs, told reporters. "The Army's push for faster aircraft with longer range dictates that any solution you bring forward has to minimize its footprint, both because of space constraints but also because literally kilograms are of vital importance."
Thales unveiled AirMaster C early this year and the radar has one launch customer, which the company said they could not disclose.
"The initial capability set, which is extensive, is being dictated by that launch customer. What's nice about that is it's being funded and it's being dictated on a timeline that is longer than Future Vertical Lift, so this will be ready ahead of Future Vertical Lift's timeline," Donaldson said. "Everything is combined into that one panel. It's easier to install, easier to wire, easier to maintain. The system is fully software-defined. As the capabilities expand and develop, all of the changes and upgrades to the system are done via software upgrades. There's no changeout in hardware."
For helmet-mounted displays, Thales is developing a solution for FVL based on its Scorpion system currently used on A-10s, F-16s and AC-130s, that Jim Geraghty, vice president of Thales Visionix, described to Defense Daily as an "expansion of the technology into an all new capability."
"With the helmet-mounted display, the head tracking and the processing, all those technologies move at different speeds and we are able to, in a modular way, remove and replace if the technology changes. All that is now being enhanced and updated in an internal development program in concert with the U.S. Army and the key stakeholders. We have demonstrated the system. It's not ready for public release yet," Geraghty said, adding that more specific details will likely be announced in the coming months.
For avionics, Sleigh detailed Thales' FlytX modular cockpit display system, which utilizes a scalable number of screens and the company's own streamlined software solutions to offer customizability for specific FVL needs.
"Not only is Thales able to provide a full cockpit solution or partial cockpit solution, as with the case of the UH-60V helicopter for the U.S. Army, we provide the flight management system software for that. It's an example of how we can provide software solutions into a mission computer or a flight control computer. So it's a diversified portfolio of those capabilities," Sleigh said. "As we know, the digital battlefield's going to provide so much data to the crew. It's imperative that the cockpit be streamlined, both for civil navigation-type applications but also tactical [applications]."