Textron [TXT] won the competition on Jan. 25 to produce new T-54A Multi-Engine Training System (METS) aircraft to replace the aging Beech Aircraft T-44C Pegasus training aircraft.
The older fleet of 54 T-44Cs was built by Beech Aircraft, which is now a subsidiary of T-54A winner Textron.
These aircraft are used to train Navy, Marine Corps and Coast Guard pilots to fly non-centerline thrust aircraft like the Bell [TXT]-Boeing [BA] V-22 Osprey, Northrop Grumman [NOC] E-2D Advanced Hawkeye, Lockheed Martin [LMT] C-130 Hercules and Boeing P-8A Poseidon.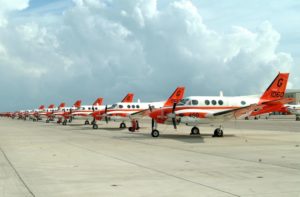 The Navy said this T-54A will provide advanced instrument and asymmetric engine handling training to student naval aviators preparing to fly these kinds of multi-engine aircraft.
"The new METS aircraft will give us the ability to train pilots across the services with an advanced platform that better represents fleet aircraft. The T-54A will include the latest avionics and navigational updates, such as virtual reality and augmented reality devices, to ensure pilots are ready to face any challenges that come their way in tomorrow's battlespace," Capt. Holly Shoger, Naval Undergraduate Flight Training Systems Program Office (PMA-273) program manager, said in a statement.
The base contract stands at $113 million for the first 10 aircraft, but the Navy said all contract options are expected to raise the total value to $677 million for 64 total aircraft. The T-54As are expected to be delivered between 2024 and 2026.
The work will largely occur at Textron's beech Aircraft facility in Wichita, Kan., and this first 10 aircraft order is expected to be finished by June 2024. 
Naval Air Systems Command said the T-44C is set to start transitioning out of service six months after the first T-54A delivery.
The Navy said the METS will include a pressurized cockpit with side-by-side seating and a jump seat. The cockpit will also feature multifunction displays with a digital moving map, redundant ultra-high frequency and very high frequency radios, an integrated GPS/inertial navigation system, automatic dependent surveillance-broadcast, flight management system, weather radar, radar altimeter and a cockpit data recorder.
The aircraft also has a tricycle landing gear and reconfigurable cargo bag in the cabin.
The Navy underscored the T-54A will retain data that allows for condition-based maintenance plus, which seeks to help the Navy trend aircraft health over time to improve maintenance planning and efficiency.
According to an award notice, while multiple potential offerors expressed an interest in the program, by the time the solicitation closed only the Textron offer was received. In accordance with acquisition regulations, NAVAIR said it is requesting feedback from the potential offerors who expressed interest but did not submit proposals.
According to the regulation, DFARS PGI 215.371-2, agencies should use such feedback when considering how to overcome barriers to competition for future requirements.