The State Department has approved a $4 billion deal with Kuwait for the sale of AH-64E Apache helicopters.
The Defense Security Cooperation Agency (DSCA) notified Congress on Dec. 29 of the foreign military sale, as well as several others to include deals with Egypt for a Large Aircraft Infrared Countermeasure (LAIRCM) and GBU-39 Small Diameter Bombs to Saudi Arabia.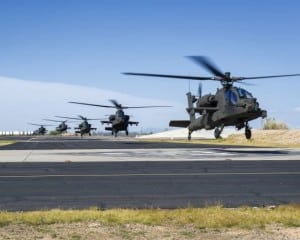 "The proposed sale of the AH-64E Apache helicopters will supplement and improve Kuwait's capability to meet current and future threats by enhancing Kuwait's close air support, armed reconnaissance, and anti-tank warfare mission capabilities," DSCA officials wrote in a statement.
Kuwait has requested to buy eight new Boeing [BA] AH-64E Apaches and equipment to remanufacture 16 of their AH-64Ds to the E-mode configuration.
The deal also includes 22 new and 36 remanufactured T700-General Electric [GE] 701D engines, AN/AAR-57 Counter Missile Warning Systems, AN/APG-78 Longbow Fire Control Radars, Hellfire missile launchers, M260 rocket launchers, communications equipment, countermeasure systems, simulators and generators.
The State Department also approved a $200 million deal with Kuwait for new parts to support the country's upgraded Patriot missile defense systems.
Officials also approved two FMS cases with Egypt: $104 million for a Northrop Grumman [NOC] LAIRCM system for one Airbus 340-200 Head-of-State aircraft and $65.6 million for 20 Lockheed Martin [LMT] Sniper Advanced Targeting Pods.
The latest approved FMS with Saudi Arabia covers a request to buy 3,000 GBU-39 Small Diameter Bombs for $290 million, "to meet current and future threats by increasing its stocks of long-range, precision air-to-ground munitions."