The Pentagon's lead technology official said Tuesday her office has funding to begin work on a rapid experimentation campaign to test emerging technologies, with plans to open up opportunities soon for industry to pitch new capabilities and concepts.
Heidi Shyu, the under secretary of defense for research and engineering, said the fiscal year 2023 budget request will include funding and plans to further the annual experimentation initiative that aims to identify new technologies to address joint warfighting capability gaps.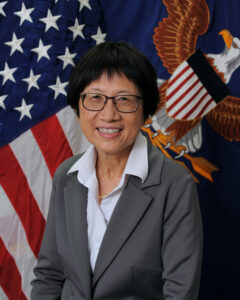 "We actually got some FY '22 money to get things going. So we're in the process of laying out all the details on how we're conducting this joint experimentation," Shyu said during remarks at the Association of Old Crows' annual symposium. "With the next sprint what we'd like to do is open it up to industry to see if they have products that are at a [Technology Readiness Level] 5 to 7 maturity level and to bring those in to see if they can fulfill either a capability gap or even a portion of the capability gap. That's already being planned."
Shyu previously detailed her plans for the rapid experimentation campaign, set to begin in FY '23, which looks to fill in capability gaps addressed by the services and combatant commands (COCOM) around areas such as information advantage, joint fires, all-domain command and control and contested logistics in support of future joint multi-domain operations (Defense Daily, Nov. 8). 
For the experimentation campaign, Shyu has said her office received over 200 ideas from the services and COCOMs for technologies to participate in the first iteration of the event before paring it down to 32 technology concepts that will be tested in FY '23.
"I told the [COCOMS] that if the results of the experiment [are successful] and the warfighters want that particular capability…then we can go to rapid fielding. That's certainly an option. If they like the product but they would like to make a tweak to it to add some additional capability, we can go through one more iteration of the design of that product and come back the next year and test it out," Shyu said on Tuesday.
Shyu said her goal is to conduct this rapid experimentation, which is part of thePentagon's new Rapid Defense Experimentation Reserve, up to two times a year.
In late September, Shyu detailed her top priorities for technology areas of development, noting she's particularly interested in the progress of directed energy, specifically high energy lasers and high-powered microwaves, and assured software tools (Defense Daily, Sept. 28).