Germany's Rheinmetall is once again looking to compete for the Army's Optionally Manned Fighting Vehicle program, announcing a new partnership on Tuesday with
Textron Systems [TXT] to propose the Lynx KF41 platform.
"Team Lynx" also includes Raytheon [RTN], who partnered with Rheinmetall for its previous proposal during the Army's first attempt at OMFV but which ultimately resulted in a disqualification after it was unable to meet a deadline for delivering a bid sample.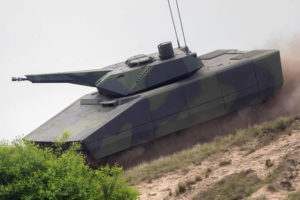 "This teaming agreement brings together two of the world's leading providers of defense industry solutions in order to offer the U.S. Army an OMFV that's second to none. Textron Systems brings decades of experience in production with robotic capabilities that further enable our growing Team Lynx to provide a transformational product to the U.S. Army," Matt Warnick, managing director for American Rheinmetall Vehicles, said in a statement.
Rheinmetall said the Lynx KF41 variant for OMFV will have a "future-proof modular design," and will include Textron's "land systems technology development and production capabilities."
"Textron Systems' Slidell, Louisiana vehicle production facility has supported more than 15 armored vehicle programs of record supporting over 20 countries," Henry Finneral, Textron Systems' senior vice president, said in a statement. "We stand ready to support the team and the US Army and deliver a trusted platform for the future."
OMFV is the Army's program to replace its Bradley fighting vehicles, with the service canceling its original acquisition earlier this year, which faced scrutiny after a single bid sample from General Dynamics [GD] was accepted for the program's prototype phase.
The Army released a draft RFP for the rebooted competition's initial phase, which focuses on digital designs rather than physical prototypes, with plans to award up to five contracts in June 2021 (Defense Daily, July 17).
Rheinmetall told Defense Daily last October the company was still interested in pursuing OMFV opportunities after its Lynx bid sample had been disqualified (Defense Daily, Oct. 14 2019).
The Army had previously floated the idea of submitting its OMFV prototype design, but said in September it would no longer consider that option after feedback from industry and dialogue among senior leadership (Defense Daily, Sept. 17).