Raytheon [RTN] and Germany's Rheinmetall said Friday they have officially formed a new joint venture as they prepare to submit a combat vehicle proposal for the Army's Bradley replacement program.
The U.S.-based Raytheon Rheinmetall Land Systems team will propose the Lynx fighting vehicle for the Optionally Manned Fighting Vehicle program, with bid samples due for the prototype phase due to the Army by Oct. 1.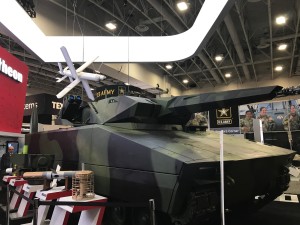 "This advanced combat vehicle will be made in America," Sam Deneke, vice president of Raytheon Land Warfare Systems, said in a statement. "Our team will produce and deliver a fighting vehicle to the U.S. Army that protects our troops and gives them an overwhelming advantage on the battlefield."
The two companies first announced they would partner on an OMFV offering last October, showing Rheinmetall's Lynx outfitted with Raytheon-built capabilities at the annual AUSA conference in D.C. (Defense Daily, Oct. 9 2018).
Officials said Lynx will specifically be offered with Raytheon's TOW missiles, an active protection system, third-generation FLIR technology and a Coyote unmanned aircraft system.
Raytheon and Rheinmetall also recently announced they added Detroit-based automotive engineering firm Pratt & Miller to its OMFV team to begin assembling a U.S. supply chain for Lynx (Defense Daily, Aug. 13).
The new joint venture will likely be joined by General Dynamics [GD], with its Griffin III platform, in the OMFV prototype competition, after both BAE Systems and SAIC [SAIC] said they would sit out the program after previously expressing interest.
Officials leading the OMFV effort previously noted the Army will re-open the competition for a production contract following the conclusion of the prototype phase, while setting sights on 2026 to field the first vehicles (Defense Daily, July 18).
Rheinmetall's Lynx vehicle was recently selected to move forward, along with South Korea's Hanwha, in the Australian Army's potential $10.2 billion future infantry fighting vehicle competition (Defense Daily, Sept. 19).