Raytheon Technologies [RTX] said this week it had completed the Systems Requirements Review-Prototype for the Missile Defense Agency's Glide Phase Interceptor (GPI) competition and is next moving on to preliminary design.
The company announcement made on Sept. 20 noted the SRR-P determination means the company and government both understand the requirements of the project and the company can move to initial development.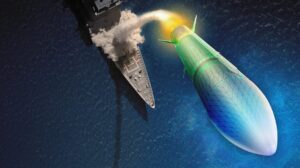 "We have a firm understanding of the requirements, and we're ready to continue GPI development. This is a major step toward delivering this capability to the warfighter," Tay Fitzgerald, president of Strategic Missile Defense at Raytheon Missiles & Defense, said in a statement.
Last year, MDA awarded Raytheon and Northrop Grumman and Lockheed Martin [LMT] $19 million – $21 million contracts to further develop and refine concept designs for the GPI, a hypersonic missile defense interceptor (Defense Daily, Nov. 22, 2021).
However, MDA downselected to just Raytheon and Northrop Grumman in June when it awarded the two companies a further $31 million in modifications to continue developing and refining their concept work (Defense Daily, June 24).
In May, Missile Defense Agency Director Vice Adm. Jon Hill told a House panel that the GPI competition could be downselected further from two to one vendor depending on the maturity of the proposals (Defense Daily, May 12).
The June award said the modification funding will help the companies continue development and refinement leading to SRR-P, with the work covering June 2022 through February 2023.
The original contracts and modifications stand at $62.5 million for Raytheon combined.
Raytheon noted the GPI is designed to intercept hypersonic weapons in the glide phase of flight, ideally providing a regional defense layer against such missile threats.
"The Raytheon Missiles & Defense GPI concept employs a low-risk solution that uses proven Standard Missile technology already deployed on Aegis ships, while advancing critical technologies needed in the hypersonic environment," Fitzgerald added.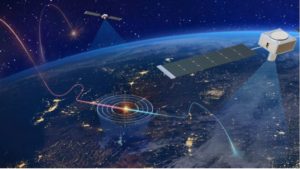 The company said this SRR-P determination demonstrated Raytheon's experience with ship-launched missile systems and its "ability to mature critical hypersonic technologies that ultimately help meet fleet operational requirements against existing and future threats."
Now that SRR-P is complete, Raytheon said it is moving on to preliminary design work.
In 2021 at the time of the original award, MDA Sea-based Weapon Systems Program Executive Rear Adm. Tom Druggan said awarding multiple contracts for GPI allows the agency to reduce risk and maximize the benefits of competition to find the most effective and reliable GPI option as soon as possible.
MDA plans for GPI to be developed over several phases with increasing capabilities. The initial fielding is projected to start in the mid-to-late 2020s. The GPI interceptors will be built to fit into the current Aegis Ballistic Missile Defense System and fired from standard Vertical Launch System cells on destroyers.