Raytheon [RTN] is out of the Army's Precision Strike Missile (PrSM) prototyping program following the service's decision to not provide the company with additional funding, leaving Lockheed Martin [LMT] as the sole competitor.
"The Army made a decision not to provide additional funding to Raytheon at this time. Raytheon's current period of performance ended on 20 March," program manager for Strategic and Operational Rockets and Missiles under PEO Missiles & Space told Defense Daily on Tuesday.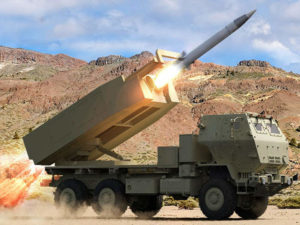 The decision follows recent comments from the Army's top acquisition official to lawmakers during a recent House hearing that the service had been in negotiations with Raytheon to try keep the company involved in the program after its missile offering had experienced "technical problems" (Defense Daily, March 5).
Raytheon now exits the PrSM technology maturation and risk reduction phase without having conducted a flight test of its DeepStrike missile for the Army.
Lockheed Martin is on track to conduct its third flight test on April 30, the program manager told Defense Daily.
PrSM is the Army's program to replace its legacy ATACMS missiles, with plans to award a production contract in 2021 and begin initial fielding in 2023.