The new director of the Pentagon's Joint Artificial Intelligence Center (JAIC) on Tuesday detailed his priorities for the office with a focus on balancing targeted investments in emerging AI developments for warfighting and ensuring all organizations are capable of taking advantage of the latest breakthroughs.
Marine Lt. Gen. Michael Groen, the JAIC director since October, told reporters the organization's expanding role will include bolstering the Joint Common Foundation (JCF) algorithm development platform for use across the department as it reaches initial operational capability in 2021.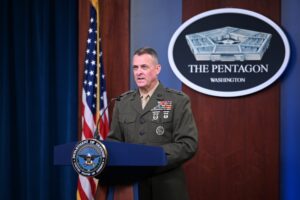 "In JAIC 2.0, what we're calling our effort now, we seek to push harder across the department to accelerate the adoption of AI across every aspect of our warfighting and business operations. While the JAIC will continue to develop AI solutions, we're working in parallel to enable a broad range of customers across the department. We can't achieve scale without a broader range of participants in the integration of AI," Groen said.
'JAIC 2.0' will include ensuring all organizations realize "AI is not IT," as the office looks to move from solely developing new tools to also functioning as a liaison for linking organizations' new use cases with contractors leading the latest AI developments.
"AI is not IT. It's not a blackbox that a contractor is going to deliver to you. It's not some digital gadget that an IT rep will show you how to log into. Our primary implementation challenge is the hard work of decision engineering," Groen said. "In an unlimited budget environment, we might build that algorithm for them. In a limited budget environment, sometimes the best thing we can do is link them to a contractor who may have demonstrated expertise in their particular use case."
Groen echoed his predecessors in citing AI developments for warfighting capabilities as JAIC's top priority for the next year.
"We want weapons that are more precise. We want weapons that guide on command to human-selected targets. We want automatic threat detection and identification on our bases. We want better information about the logistics support that is available to our small units. We would like better awareness of the medical situation, perhaps remote triage, medical dispatch, processes," Groen said.
In May, JAIC selected Booz Allen Hamilton [BAH] for a five-year, potential $800 million task order to deliver AI-powered capabilities for use on the battlefield, which was the organization's largest contract award to date (Defense Daily, May 18).
General Atomics also recently received a $93 million deal to work on a program for JAIC developing an AI-enabled "Smart Sensor" for unmanned aircraft systems (Defense Daily, Nov. 23).
Groen called the JCF a "key enabler for [AI] advancement in the department" as it provides a comprehensive development toolkit for the entire department, including those DoD organizations that "don't have the infrastructure and the tech expertise to do it themselves."
"That platform now provides a technical basis, especially for disadvantaged users who don't have access to data scientists, who don't have access to algorithms and who are not sure how to leverage their data," Groen said.