The Pentagon on Monday announced a new $125 million military aid package with Ukraine, which will include delivery of additional patrol boats and counter-artillery radars.
The package, funded through the State Department's Foreign Military Financing program, covers two additional SAFE Boats International-built Mark VI patrol boats, bringing the U.S. total delivery commitment up to eight vessels.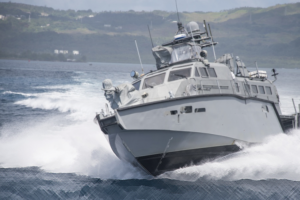 "This action reaffirms the U.S. commitment to providing defensive lethal weapons to enable Ukraine to more effectively defend itself against Russian aggression," the Pentagon wrote in a statement. "The package also includes capabilities to enhance the lethality, command and control, and situational awareness of Ukraine's forces through the provision of additional counter-artillery radars and tactical equipment; continued support for a satellite imagery and analysis capability; and equipment to support military medical treatment and combat evacuation procedures."
Ukraine is still set to receive an additional $150 million in 2021 Ukraine Security Assistance Initiative funding, which has been appropriated but is contingent on certifying the country "has made sufficient progress on key defense reforms," according to the Pentagon.
"The Department encourages Ukraine to continue to enact reforms that strengthen civilian control of the military, promote increased transparency and accountability in defense industry and procurement, and modernize its defense sector in other key areas in line with NATO principles and standards," the Pentagon wrote. 
Last June, the State Department approved a potential $600 million deal with Ukraine for 16 Mark VI patrol boats, as well as 32 MSI Seahawk A2 gun systems, 40 MK44 cannons, 20 FLIR [FLIR] Electro-Optics/Infrared Radars, Long-Range Acoustic Device loudspeaker systems and 16 Identification Friend or Foe systems (Defense Daily, June 17 2020).