The latest Naval Sea Systems Command (NAVSEA) campaign plan focuses especially on on-time delivery of vessels and systems and transforming digital capability.
"To that end, it is NAVSEA's fundamental responsibility to provide our Fleet Commanders with the capabilities required to maintain maritime superiority, deter aggression, defeat our enemies in combat and provide humanitarian assistance in times of crisis" Vice Adm. William Galinis, NAVSEA commander, sad in an opening message for the plan, called Campaign Plan to Expand the Advantage 3.0.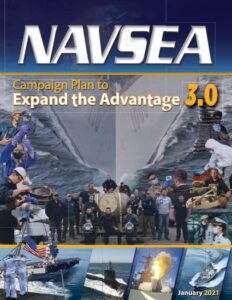 Galinis also said this plan, released Jan. 28, aligns directly with new CNO Navigation Plan, released earlier this month. That plan outlines how the Navy aims to grow its naval power focusing on controlling the seas and projecting power across all domains (Defense Daily, Jan. 12).
"It is NAVSEA's mission to design, build, deliver and maintain both the current and future Fleet. Our Combatant Commanders rely on NAVSEA to provide the combat-capable assets they need, when they need them. Together with industry, we will meet that demand by delivering ships from new construction and maintenance availabilities on-time, within cost, fully tested and combat-ready with the requisite quality to ensure reliable ships, submarines and systems," the document said.
Focus areas for on-time delivery include planning, workload/resource capacity balance, material, execution, innovation, emergent battle damage assessment and repair, information technology, infrastructure, and contracting.
NAVSEA intends to get requirements and planning for ships and systems up front, drive stability in requirements and establish accurate and executable plans and schedules.
It also aims to ensure a balance of resources like people, facilities and funding, improve supply chain performance as well as material forecasting and availability.
NAVSEA it will seek to "be relentless on execution and in looking for ways to improve productivity, drive out cost, increase productive capacity and decrease availability timelines."
The document noted it will execute the decades-long Shipyard Infrastructure Optimization Program (SIOP) plan and will develop a similar 30-year strategic plan for Regional Maintenance Center (RMC) and Warfare Center infrastructure. That plan will focus on mission effectiveness, energy efficiency, weather resiliency and quality of life for the workforce.
The campaign plan argued it will also "establish and implement contract strategies that balance risk, provide for stable and predictable workload, effective change management, and build constructive, accountable contractor relationships at all levels while decreasing cycle time to get contracts in place."
While the plan did not provide further details on how it will achieve on-time delivery, it separately had some particulars on how it aims to transform the Navy's digital capability.
"Advancing our digital advantage requires an Enterprise mind-set across every facet of our business. Successful digital transformation requires development and integration of a wide-range of capabilities to improve performance, unlock new opportunities, drive innovation, deliver new efficiencies, and inform analytic-based decision-making," the document said.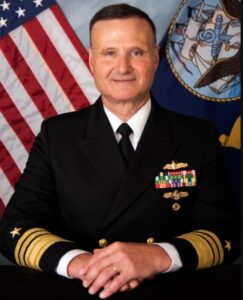 NAVSEA argued it will strengthen its cybersecurity efforts by affordably integrating cybersecurity, enable cyber operational readiness, understand the cyber terrain and reduce cyber risk, and improve the cyber competence of the workforces.
The command aims to build on its digital engineering capability via integrating digital tools, data, processes, and infrastructure to improve engineering practices in design, manufacturing, maintenance, and operation "enabling systems to reliably perform their mission at the lowest possible lifecycle cost."
This entails formalizing the development and integration of models, incorporate technology innovation to improve engineering practices and readiness management, embrace additive manufacturing as a way to enhance warfighting and increase readiness, and provide an enduring authoritative data and knowledge source.
NAVSEA will advance its business process via "adoption and implementation of digital tools to enhance our workforce experience, as well as technologies, processes, and data analytics to improve organizational capability and reimagine our business models with digital technology central to how we operate."
The command said they will change the business process by empowering the workforce via providing training to become "digital-savvy" and enhance analytics capabilities; expand, integrate and streamline the NAVSEA Businesses System of Systems Enterprise Architecture with further integration of business tools and solutions; enhance predictive analytic capabilities; and apply artificial intelligence and machine learning to enhance the robotic process automation capabilities across enterprise digital business solutions.