A bipartisan bill introduced in the House last Thursday would penalize the Pentagon for failing to pass its financial audit by cutting the budget for each department agency that didn't receive a clean opinion.
The Audit the Pentagon Act of 2021 is co-sponsored by Reps. Barbara Lee (D-Calif.) and Michael Burgess (R-Texas), who said the focus of the bill is to "increase transparency and accountability" into areas of wasteful spending at the department.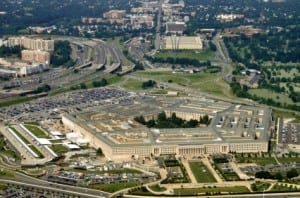 "In the thirty-one years since Congress passed the Chief Financial Officers Act of 1990, the Pentagon remains the only federal agency that has never passed an audit," Lee said in a statement. "Congress pours trillions of taxpayer dollars into the Pentagon, but we still have no clear idea how that money is being spent. This legislation would be a long overdue step in ensuring transparency and putting an end to the culture of waste, fraud and abuse at the Department of Defense."
Pentagon officials have previously said it will likely take until 2027 before it achieves a clean final audit across the whole department.
Specifically, the bill would cut the budget of any Pentagon office that does not receive a clean financial opinion by a half percent in the first year following the bill's enactment, and then by 1 percent in every following year.
The lawmakers note that accounts associated with personnel, families and military health care would be exempt from the penalties. 
"While Congress is going through the appropriations process, we have a responsibility to demand transparency. It is astonishing that the Department of Defense has not accounted for its taxpayer-funded resources and is the only major agency that has never been able to complete an audit of its full financial statements," Burgess said. "I am encouraged by the progress made by the DoD in the last few years, but it is not yet enough."
The Pentagon announced last fall it failed its latest full financial audit, while noting the latest effort did include finding $700 million in savings and clearing 530 financial discrepancies (Defense Daily, Nov. 17 2020). 
A panel of experts told the Senate Armed Services Committee in April that the department can improve its financial audit performance with bolstered data systems for personnel, acquisition and logistics information (Defense Daily, April 27).