The Army on Monday released a new installations strategy that calls for bases of the future to serve as "smart" platforms that harness 5G and advanced communications capabilities needed to enable multi-domain operations.
"We envision at 'end state' that each Army installation will be both a 'platform' of mission specific capabilities as well as an active node within a broader 'constellation' of installations connected across the Army enterprise," officials wrote in the strategy.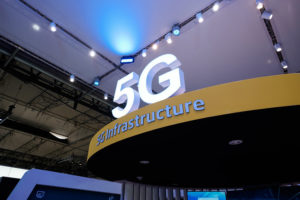 Officials said the new plan to outline priorities for future bases is a critical component to ensuring the Army is "Multi-Domain Operations-ready" by 2035.
"As a platform, each future Army installation will employ a Common Operating Picture of its operational environment to guide decision making and resource allocations," officials wrote. "It will have in place the latest generation wireless communication to connect an array of sensors as well as enable remote equipment diagnostics and distributed/virtual training. There will be both passive and active defenses in place across multiple domains."
The new strategy calls for a 5G-enabled "backbone" to allow bases to harness next-generation communications networks and Information of Technology-devices in line with similar "smart city" initiatives.
In October, the Pentagon awarded $600 million in contracts for 5G pilot programs including "smart warehouse" work, building testbeds and dynamic spectrum sharing (Defense Daily, Oct. 8).
This new "backbone" must be capable of handling "massive amounts of data with near real-time production" to enable applications such as augmented and virtual reality training, autonomous vehicles, command and control, and remote diagnostics.
"Future soldiers will expect installations to modernize at pace with civilian sector smart cities initiatives. Opportunities that leverage technology through creation of data-informed, smart installations will allow the Army to pivot from an industrial-age paradigm, characterized by rigidity and purpose-built specialization, to a data-rich, reconfigurable, and technology-enhanced information-age construct," Army officials wrote.