The Navy's FY 2021 budget request outlined its plans to develop and start funding work for the next attack submarine, SSN(X)
The service is requesting $1 million in FY '21 and plans another $1 million in each year through FY '25, classifying it as SSN(X) class submarine development.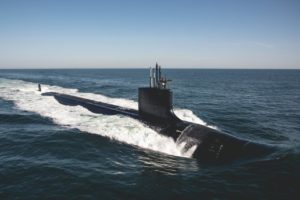 This FY '21 funds will be split between $750,000 for Naval Surface Warfare Center (NSWC) Carderock Division in Maryland and $250,000 for Naval Undersea Warfare Center (NUWC) Newport in Rhode Island. The service plans to award funds for both segments in October 2020.
"SSN(X) is required to maintain a submarine force structure, and will be designed to counter the emerging threat posed by near peer adversary competition for undersea supremacy," the service said in its budget justification documents.
In FY '21, the Navy specifically plans to use this funding to conduct advanced technology development in speed, stealth and survivability; conduct cost versus operational effectiveness trade studies for the core acoustic suite as a function of limitation posed on the ship hull form; generate trade studies for ocean interface concepts; and evaluation concepts of operations platform for submarine mission areas.
The budget documents said the program's acquisition strategy is to utilize work requests for government warfare center initial concept and trade studies in FY '21 to assist with requirements definition. The Navy will start "industry-based engagement to inform, develop, and prepare for competitively awarded contracts."
Further research and development efforts will be performed by Navy laboratories, shipyards, private industry, and University-affiliated research centers.
The documents noted this is a new start budget item and is a realignment/reduction from a project used for Virginia-class submarines. The Navy underscored funding amounts past FY '21 will be adjusted and programmed "commensurate with updated requirements as they become defined in future budget submissions."
The Navy plans to conduct both requirements definitization as well as concept studies and system definition from the first quarter of FY 2021 to the fourth quarter of  FY '22. It will also work on research development and prototyping for lead ship design as well as component design and development from the first quarter of FY '21 to the fourth quarter of FY '25
The Navy said the primary goal of SSN(X) development will be "to evaluate a broad range of submarine technologies, sensors, and combat system components required to produce an affordable platform which supports these mission requirements."
The Navy underscored that unlike the current Virginia-class attack submarines, which were designed for multi-mission dominance n the littorals, SSN(X) "will be designed for greater transit speed under increased stealth conditions in all ocean environments, and carry a larger inventory of weapons and diverse payloads."
While the submarine will be designed to hold multi-mission capability and sustained combat presence in denied waters, the Navy said "renewed priority of the anti-submarine warfare (ASW) mission against sophisticated threats in greater numbers will influence the design trade space."
SSN(X) will have to defend against unmanned undersea vehicles (UUVs) while coordinating with a large contingent of off-hull vehicles, sensors, and friendly forces.
In October, the Congressional Budget Office's (CBO) annual analysis of the service's 30-year shipbuilding plan argued building the expected 33 SSN(X) vessels from 2031-2049 will cost $5.5 billion per hull or $181 billion total. In contrast, the Navy's FY '19 plans estimated they would cost about $3.4 billion per hull for a total of $112 billion (Defense Daily, Oct. 10).
CBO argued its larger estimate is due to the Navy envisioning a vessel larger and more capable than the Virginia-class, akin to the Seawolf-class, and assumed an average of that larger submarine.