The Navy awarded L3Harris Technologies [LHX] a $496 million contract to develop and build the Next Generation Jammer-Low Band (NGJ-LB) program over competitor Northrop Grumman [NOC] last week.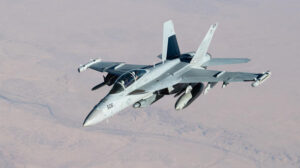 The NGJ-LB capability is a portion of how Naval Air Systems Command (NAVAIR) intends to replace and augment the legacy ALQ-99 tactical jammer on EA-18G Growlers to counter and defeat enemy air defenses and communications systems. NAVAIR is splitting the NGJ into low, mid and high-band frequencies.
In 2018, the Navy awarded both L3Harris and Northrop Grumman $35 million contracts to demonstrate and test technologies for the NJG-LB, intending to downselect to a single provider later (Defense Daily, Oct. 26, 2018).
Northrop Grumman did not say if it will protest the decision, but told Defense Daily it was notified of the decision "and is carefully reviewing its next steps."
"The Company continues to believe its offering provides the best value and most advanced technical solution for the US Navy's EA-18G Growler and is looking forward to hearing more about the final evaluation process," Northrop Grumman added.
In May, the Navy said it started the final Demonstration of Existing Technologies tests for NGJ-LB, part of a 20-month process (Defense Daily, May 20).
The new contract, awarded on December 18, specifically covers production and delivery of eight operational prototype pods, 10 pod simulators, four jettison mass model pods, two captive mass models, two mission system prototypes and two technique development systems "in support of engineering and manufacturing development for the Next Generation Jammer Low Band program."
The L3 Harris elaborated the eight prototypes will be sent to NAVAIR for fleet assessment while NAVAIR will examine additional test assets for airworthiness and design verification.
Work will mostly occur in Salt Lake City, Utah (66 percent); Boulder, Colo. (10 percent); and Carlsbad, Calif. (nine percent); and is expected to be finished by September 2025.
"The Next-Generation Jammer Low Band contract highlights L3Harris' long-standing commitment to support the U.S. Navy's mission to maintain superiority on land, sea and in the air," Dana Mehnert, president of the L3Harris communications systems segment, said in a statement.
"The selection of L3Harris demonstrates our company's strength as a technology prime to provide a truly unique solution that meets the Navy's need to address all contested environments," he added
This comes after the Navy finished the first mission systems flight test of the NJG-Mid-Band on a Growler in August. Raytheon Technologies [RTX] developed the NGJ-MB, having won a $1 billion contract to design, build., demonstrate, and test the jammer in 2016 (Defense Daily, April 15, 2016).